Bangkok day trips
or via the Booking form

BT1. Grand Palace & Temple tour
Bangkok's most famous landmark comprises two significant sections: The Grand Palace and Wat Phra Kaeo, where the Emerald Buddha (the national Buddha image) sits and where some of Thailand's most significant religious ceremonies are performed by the King. Start 08:30, end 12:30 hr. Hotel pickup / dropoff, entry fees & English speaking tourguide included. This tour can be combined with the Canal Tour BT2 (different prices apply).
1800 Baht (€ 47 / U$ 53 / 4p)
2800 Baht (€ 74 / U$ 83 / 2p)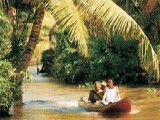 BT2. Canal Tour
During this boattour you sail along Bangkok's canals to the more quiet parts of Bangkok. Start on the Chao Phraya river and change boats a few times on the way. On the narrowest canals you can almost touch the banks and see how the local people live alongside the canals. Lunch in a small village near a temple. This enjoyable tour will give you a surprising insight in traditional Bangkok life as it is lived for many decades. Hotel pickup / dropoff not included.
2180 Baht (€ 57 / U$ 65 / 4p)
3780 Baht (€ 99 / U$ 112 / 2p)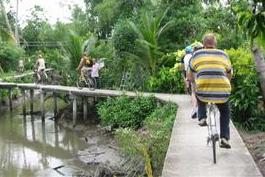 This bike tour will bring you to places hardly visited by tourists. You will ride through markets and little alleys. Take a boat trip across the Chao Phraya river and continue your tour through a green landscape scattered by fruit plantations and typical Thai style houses. Listen to the singing birds and get a friendly hello from everyone you meet. No cars, no traffic jams. Tour includes bike rental, snacks, fruit & drinks, English speaking guide and boat transfers. Hotel pickup / dropoff not included. View Details...
1300 Baht (€ 34 / U$ 39 / 13:00-17:00hr)
1800 Baht (€ 47 / U$ 53 / 10:00-16:00hr)

BT4. Ancient City tour
Ancient City (Muang Boran) is a theme park shaped as Thailand. Focusing on history and culture it contains smaller sized replicas of many of Thailands most famous buildings, monuments and even a mountain. As you wander around the 'country' you encounter the architecture and spirit of each place. Some of the reconstructions are of buildings that do not exist any more. Start 09:00, end 17:30 hr. Included are hotel pickup/ dropoff, all transfers, entry fees and an English speaking guide.
1600 Baht (€ 42 / U$ 48 / 4p)
2740 Baht (€ 72 / U$ 81 / 2p)

BT5. Ayuthaya by cruise
Morning departure to Bang Pa In, the King's beautiful summer palace. Onward to Ayutthaya, the former Thai capital and destroyed in 1767 by the Birmese. Visit the most important ruins and historical attractions. In the afternoon departure by cruise boat back to Bangkok. Buffet lunch & dessert on board. Your guide explains the history and legends of the respective sights. Around 17:00 hr arrival in Bangkok. Guided join-in tour with start and end in Bangkok. Entrance fees are included, hotel pickup / dropoff is not..
1980 Baht (€ 52 / U$ 59 / adult)
1750 Baht (€ 46 / U$ 52 / child)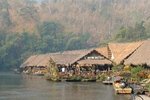 BT6. Floating Market & River Kwai
A journey by car & longtail boat along traditional Thai houses takes you to the famous Floating Market of Damnoen Saduak. See, feel and smell the old style and traditional way of selling and buying vegetables and fruits from small boats. Travel by train along the "death railway". Lunch in open air restaurant. Visit the famous River Kwai Bridge, the Jeath museum and the WW-II cemetery. Private tour with start 07:30, end 17:30 hr. Included are hotel pickup/dropoff, all transfers & english speaking tourguide. Not included are entry fees, boat fare and trainticket.
1840 Baht (€ 48 / U$ 55 / 4p)
3680 Baht (€ 97 / U$ 109 / 2p)

BT7. Riverboat dinner cruise (evening)
A romantic dinner cruise on board of an old rice barge which has been rebuilt. Enjoy a romantic candle lit tour with traditional Kim (Thai xylophone) music. This cruise is a voyage through Thai history, culture and gastronomy along the Chao Phraya river, passing by Bangkoks legendary temples. You can choose from three 4-course menus: Thai, seafood and vegetarian. Included is a small book with a reproduction of Thai river life and a description of all attractions that you have passed by. Hotel pickup / dropoff is not included. Embarkation times: 18:00 hr or 20:10 hr.
BT8. Dinner & classical dance (evening)
Enjoy a Thai dinner during an authentic Thai classical dance. Performers in their dazzling jeweled costumes, ornate headdresses and theatrical Khon masks move to the chimes and tinkles of classical Thai music with grace and charm. A classical Thai orchestra, dress in traditional costumes, play their percussion instruments entertaining you while you enjoy your dinner in old northern Thai style. Included are dinner and the Khon dance performance. Hotel pickup / dropoff is not included.

BT9. Calypso Cabaret (evening)
Turbulent cabaret show. The human body's natural beauty live on stage. Decorations and costumes are stripped to the bare necessities. Choreographies are harmoniously tailored to the specific talents and abilities of our actors and actresses. This show is timeless, not catered to any markets or fashions. This show will give you an unseen and unheard-of experience. The revival of the art of entertainment! Show time 20:15 21:45 hr.
Show: 800 Baht (€ 21 / U$ 24)
Show + dinner: 1700 Baht (€ 45 / U$ 50)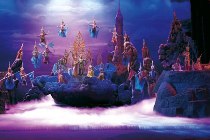 BT10. Siam Niramit dinner (evening)
A world class spectacular performance of Thai art and cultural Heritage with amazing state of the art special effects. Travel back through time into the history and culture of the Kingdom of Siam. One of the world's largest stage productions. Luxurious 2000 seat theatre, 150 performers, 500 units of costumes, 100 stage crews and technician and stage dimension 65 x 40 meter. Hotel pickup 17:00hr, dinner start 18:30hr, show time 20:00hr, back to hotel 21:30hr.
1900 Baht (€ 50 / U$ 56 / 4p)
1900 Baht (€ 50 / U$ 56 / 2p)
Remark: All prices per person at the indicated number of persons. All tours start and end in Bangkok, each tour at its own location. Some tours do not include the return transfer to and from your hotel so you need to go there by yourself. For other tours the hotel pickup & dropoff is included.