Chiang Mai daytrips
Book per email or via the Booking form
(half day)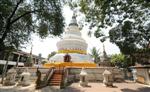 CT1. City Temple Tour
Visit the most inspiring temples of Chiang Mai. Wat Suan Dok (Flower Garden Temple) was built in the 14th century as a Thai monarch's pleasure garden. Wat Chiang Man was built in 1296, the year Chiang Mai was founded. Wat Chedi Luang is known for its huge chedi. Built in 1401 and raised to a height of 86m in 1454 by King Tilokaraja, it was partially destroyed and reduced to its present height of 42m during a massive earthquake in 1545. Finally Wat Phra Sing, Chiang Mai's most famous temple after Doi Suthep - and probably the most lovely, dates from 1345. Guided private half day tour. Transfers, admission fees, hotel pickup & dropoff and English guide included.
1520 Baht (€ 40 / U$ 45 / 4p)
2760 Baht (€ 73 / U$ 82 / 2p)

CT2. Doi Inthanon
Doi Inthanon, the highest mountain of Thailand (2565m), is popular for its magnificent waterfalls and its excellent views. The climate is cool all year round. This tour takes you to various waterfalls like the spectacular Mae Yai Falls and the Mae Klang waterfall beside the park entrance. Pass Wachiratan waterfall which plunges over a 40m drop and cascades down through some suitable swimming pools. See a Karen weaving village, well worth a visit for textile lovers. There are also many walking trails. Guided private tour. Hotel pickup & dropoff is included, so are all transfers, admission fees and an English speaking guide.
2760 Baht (€ 73 / U$ 82 / 4p)
4860 Baht (€ 128 / U$ 144 / 2p)

CT3. Doi Suthep & Home Industry
Morning departure to Doi Suthep mountain. From the top you have a splendid view over Chiang Mai. The temple can be reached via the "Dragon Stairs". This stairway has at least 300 steps, on both sides flanked by seven headed naga's (snakes). After lunch you visit local handicrafts, among which silk weaveries and small family enterprises where art objects of silver, bronze, lacquerware and wood carving are made. You will also visit the village Bor Sang where colourful umbrellas are made by hand. Join-in tour with daily departure.
1780 Baht (€ 47 / U$ 53 / 4p)
3280 Baht (€ 86 / U$ 97 / 2p)

CT4. Elephants camp & Orchid farm
One of the largest elephant-training camps is located in the beautiful surroundings of Chiang Dao, north of Chiang Mai. The "education" of elephants requires many years. In this camp you get a good impression of how everything takes places. Continue to the Chiang Dao caves, with its beautiful white marble Buddha statue from Burma. After lunch visit the colourful villages of the Meo, Lisu and/or Padong longneck hill tribes. On the way back to your hotel we will stop at an orchid farm. Daily from 08:30 - 17:00hr. Hotel pickup & dropoff, all transportation and an english speaking guide included. Entry fees not included.
1860 Baht (€ 49 / U$ 55 / 4p)

CT5. Thai Cookery course
Learn to make an authentic Thai meal by real Thai chefs! They transfer their knowledge of Thai herbs and spices and their cooking skills over to you, so that you make your own Thai meals once you are back home again. Everyone has their own, fully equipped kitchen block. First visit a local market to buy the required ingredients. You prepare your meal under supervision of the chef. The classes are maximum 12 persons and everyone will get a Thai cookbook with 31 original Thai recepees. Daily from 10:00 - 14:00. Hotel pickup & dropoff not included.

CT6. Kantoke Dinner
A Kantoke dinner is a traditional North-Thai banquet where dances are performed during the dinner, originally done for special guests and occasions only. Although nowadays you can enjoy a Kantoke dinner every evening, the hospitality and delicious food have remained unchanged. After dinner you will see various hill tribes perform traditional dances of their home village. Hotel pickup & dropoff is included. Daily from 19:00 - 22:00.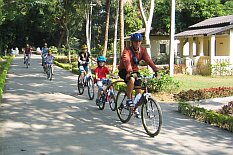 CT7. Chiang Mai by bicycle tour
In Chiangmai and north Thailand we offer adventurous cycling tours & holidays varying from half-day tours to several day tours. Grades vary from light adventurous to very challenging. Many of our tours are suited for families with small children. We offer a large choice of bicycle tours, cycling arrangements, non-accompanied tours and bicycle holidays in northern Thailand. All our tours can easily be included in your holiday plan. A fun way to explore the city and its surroundings and meet with the Thai people at the same time. View details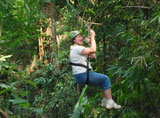 Soar through the lush, ancient rainforest on an extreme adventure like no other on the planet! An easy one hour free VIP bus ride from Chiang Mai.

Over 3 amazing hours ziplining

Highlights:
- 5km of ziplines woven into the Thai jungle eco-system
- over 33 different platform stations
- 2 suspended sky bridges, 2 abseil descents
4000 Baht (€ 105 / U$ 119)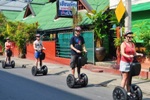 Start your visit at the ancient capital from the Lanna kingdom with a Segway Gibbon ™ city tour. For 2 hours you pass on two wheels by streets and markets and explore the most beautiful temples. You get to know the city, the hidden spots, restaurants and other landmarks, while you driving you can enjoy the people and the environment that passes you by. Safety first: at the start you will get instructions and there are always two guides going with you, one on the front and one on the back who keep an eye on the traffic.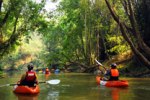 Northern Thailand is a perfect area to explore rivers. Kayaking in Chiang Mai can throughout all year, from low water levels as in the rainy season when the water level is higher and the flow is faster. Anyone who is fit can kayak, including children and whom has not a single experience in kayak. You get instructions before you start your kayak tour. Safety comes first, the equipment is regularly checked and helmets and life jackets are provided. All tours are accompanied by a guide.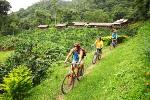 The mountains and national parks of northern Thailand with many adventurous off-road bike trail are excellent for mountain biking. For lovers of action and adventure. We offer cross country and downhill mountain bike tours that are suitable for beginners and more experienced mountain bikers, and we have some heavier tours for advanced bikers who want a tough physical challenge. Many of our mountain bike tours are also suitable for children, especially for teenagers.