About ThaiTravelDreams
ThaiTravelDreams originates from an interest in offering individual holidays in Thailand to destinations far away from mass tourism.
In 2001 we started with specialized tours through Isan and other destinations far away from mass tourism.
Shortly after that we started expanding.
Nowadays we run excursions and individual holiday journeys throughout Thailand.
Our travel program
We offer a varied travel program with adventurous mountain tours, overnight stays with hilltribes, elephant rides, bamboo rafting tours, relaxed sightseeing tours to cities and temples, overnight stays with a Thai host family as well as beach holidays.
Our strength is running holiday journeys tailored to individual requirements at competitive prices. You can book stand alone excursions with us as well as hotel accommodation, traintickets and flighttickets but also all-inclusive roundtrips. All tours on our website are examples and can be adapted to meet your individual requirements.
Our customers
We run tours for individual persons or groups who book directly with us via internet, as well as for a number of reputable overseas tour operators in the Netherlands, Denmark, Germany and UK. In addition to that, we run various Isaan tours for travel agents in Bangkok.
In particular we run tours for adventurous travelers, couples and families with children who prefer to travel together, not in a group tour. After each tour we offer our customers the possibility to fill in an online survey form, to share their experiences with us. Click to see the customer review results sofar.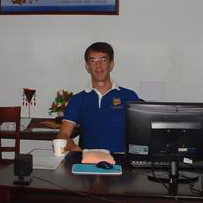 Our organisation
We are an inbound tour operator in Thailand under European management. We are officially registered in Khonkaen, Thailand under the name "Isan Discovery Travel Co. Ltd.". Consequently we are subject to Thai law. Our office is located in Khonkaen, in the heart of Isan.
Our regular office staff consists of four employees + various flexworkers. In addition to that we have a large number of tourguides, drivers and other employees on location in Thailand. Whenever we outsource activities, we do so at experienced and reliable companies that are frequently audited by us.
We are licensed by the Tourism Authority of Thailand (TAT), a government agency that overlooks tourism in Thailand and controls licenses. Our TAT license nr is 54/00005. This license includes a financial guarantee for refunds in case we fail to meet our commitments.
Let us know your wishes and we will send you your Thailand travel plan with a special price offer.
You can also check our desktop website for more detailed information.
Join Our Facebook Page