Angkor heritage
Khmer temples of Phimai & Phanom Rung
From your base in Khorat (Nakhon Ratchasima), explore these 2 magnificent examples of Khmer architecture: Phimai and Phanom Rung. An historical 3-day tour you'll never forget, with 2 nights in Khorat, Isan's largest city.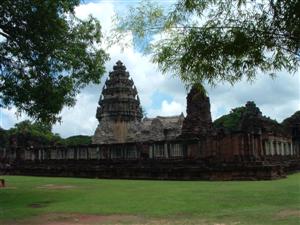 Day 1. Phimai
Between 900 and 1200 A.D. large parts of Thailand were conquered by the Angkor empire. Prasat Hin Phimai was built at the beginning of the 12th century, when the Khmer empire had its glory period. The monument is of great historic and esthetic importance, it became the example and prototype for the later built and famous Angkor Wat in Cambodia. You will have ample time to visit the Angkor temple of Phimai and the national museum nearby. Don't miss the opportunity to take a short excursion to Saai Ngaam, a gigantic 350 year old banyan tree-complex hanging some 2m above the ground, with hundreds of aerial roots anchoring it into the ground. Overnight stay in Nakhon Ratchasima, called Khorat by locals (and many others).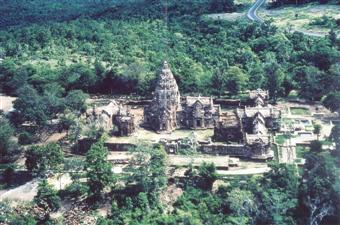 Day 2. Phanom Rung
On top of an extinct volcano, on the route from Khorat to Angkor Wat in Cambodia lies the impressive Khmer temple complex of Phanom Rung. It is the largest and best restored of all Khmer monuments in Thailand. The complex offers magnificent views over the surrounding area. In the afternoon you will visit Muang Tam at the foot of the volcano hill about 8 km down the road. A totally different setting but equally beautiful and impressive. Overnight stay in Khorat.
Day 3. End of tour
After breakfast (included) you check out of the hotel and this tour ends. From here you can travel onwards to your next destination, for instance Khao Yai safari, Homestay Khonkaen or Treasures of Isan. You can also travel back to Bangkok by train, bus or flight (we can book this for you).
Angkor Heritage    (3 days / 2 nights)
Number of persons

Single

Prices in USD

2

3

4 +

surchg

Price per person (USD)

$ 262

$ 197

$ 165

$ 49

---
Start:

Day 1 a.m. in Nakhon Ratchasima
(pickup from your hotel or point of arrival)

End:

Day 3 a.m. in Nakhon Ratchasima
(upon checkout of your hotel)

Included:

All transfers by private aircon
car,  2 overnight stays in Hotel Sima Thani or similar (superior aircon twin room, including
breakfast),  all entry fees,  An English speaking licensed tour guide

Remarks:

We recommend that you arrive in Khorat on the day preceeding the tour. We can book accommodation for you. Alternatively, if you arrive in Khorat on the morning of day 1 then we can pick you up at the train station, bus terminal or airport.


Prices in Thai Baht are leading. Payments can also be made in other
currencies such as USD or EUR. In that case, the prices in
THB need to be converted at the exchange rate on the day of payment. The mentioned prices in EUR and USD are based on our prices in THB and against an exchange rate of 35 Baht per Euro or 32 Baht per USD. Our payment terms apply.