Angkor secrets of Thailand
6 days Angkor route
Via the mountains of Khao Yai national park you will visit the mighty Angkor temples of Phanom Rung and Khao Phra Wihan and enjoy a leisure day at the Mekong river watching the beautiful sunset over the mountains of Laos. The highlight of this tour is a visit to Khao Phra Wihan, a stunningly beautiful Khmer temple sanctuary in Si Saket province and a majestic example of architectural design from the Angkor period. It is located in a beautiful natural setting with spectacular views over the Cambodian lowlands. This is Thailand at its best.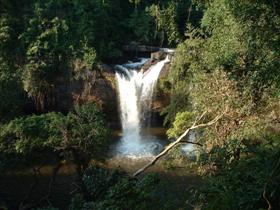 Day 1. Bangkok – Khao Yai
In the morning transfer from your hotel in Bangkok to Khao Yai National park. The tour that we have set out is easy going and can be enjoyed by nature lovers of all ages. The car will drive you through the most beautiful parts of Khao Yai and you will have ample time to relax near the beautiful Haew Suwat waterfalls where you can swim if you like. Later you will visit the vulcanic caves and the bat caves and see more than a million bats swarming out to hunt for nightly food. Falcons try to seize the bats as food, an experience not to be missed. In the evening you can optionally visit the night market at Pak Chong. You will stay overnight in an airconditioned room at the Khao Yai Garden Lodge Hotel, a spaciously set up nature resort with picturesque accommodation that fits perfectly in the natural landscape of Khao Yai National Park. The hotel has a large garden with orchids, turtles, butterflies and plants, a swimming pool with bar and a cozy restaurant.
Day 2. Khao Yai national park
Drive deep into the mountains and walk through refreshing and scenic landscapes of bizarre mountains where untouched jungle still exists. Using the elephant trails in the jungle you will walk along mountain streams and see fairytale waterfalls where you can take a swim. Admire the large variety of orchids and the magnificent views from the cliff at 1270m altitude. Depending on the season you may see flowering trees, wild orchids or beautiful butterflies. Being in the jungle itself with its uncountable sounds all around you is already an experience in itself. The park has the biggest elephant population (200) in Thailand. Late afternoon is the time that most animals come out of their hiding, among which elephants, gaurs, monkeys, deer, bears and birds including the famous hornbill. We will visit the places where this happens most often. Dinner (not included) will be served upon return in the hotel. Overnight stay again in the Khao Yai Garden Lodge.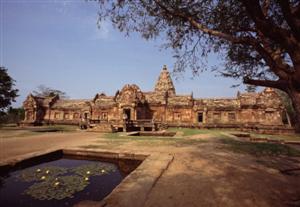 Day 3. Phanom Rung Angkor temple
Leave Pak Chong in the morning to visit Phanom Rung. On top of an extinct volcano, on the route from Khorat to Angkor Wat in Cambodia lies the historical Khmer temple ruine of Phanom Rung. It is the largest and best restored of all Khmer monuments in Thailand. The whole complex and especially the procession road to the main entrance, the stairs leading up to the complex and the Naga bridges are beautiful and impressive. Just being here and absorb the peace and tranquility is a wonderfully relaxing experience in itself. The complex offers magnificent views over the surrounding area. You will also visit Muang Tam, about 8 km away from Phanom Rung in a totally different setting and layout yet equally impressive. In the evening transfer to Surin, a suprisingly cozy city. Overnight stay in Surin.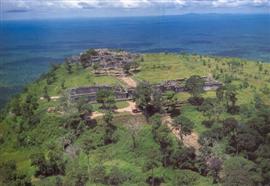 Day 4. Khao Phra Wihan
In the morning transfer to Si Saket, a quiet province on the Cambodian border. Si Saket is home to many Khmer ruins scattered all around the province, among which the notable two ruined sanctuaries of Wat Sa Kamphaeng Yai and Noi dating back to the 10th century. The province's most famous Khmer site, however, is actually in Cambodia. Khao Phra Wihan was built over 10 centuries ago and is one of the most spectacular Angkor-period sites. Built as a Hindu temple, it begins in Thailand and rises to 600 meters with the main sanctuary being in Cambodia. The walk to the summit is long and steep. On the top, a breathtaking view over the Cambodian plains to the southeast awaits you.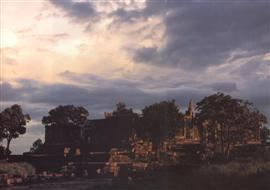 The size and complexity of the temple ruins is impressive. Long periods of war have prevented several highly needed renovations and some parts of the complex are still in state of decay, a fact that only adds to the sense and feeling of historical value. You will have ample time to wander around the complex and the neighboring area of Pha Mo Ee Daeng. Take your passport along as you need to cross the Cambodian border. No special visa is required but you need to leave your passport at the border as security and you may tour only the immediate surroundings of the complex. Afternoon transfer to Ubon Ratchatani where you will stay overnight.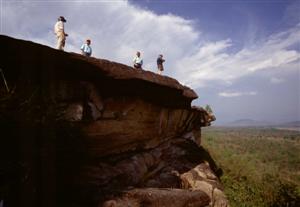 Day 5. Khong Chiam
Visit the border market of Chong Mek and "Mae Nam song see" where the blue colored Moon and the muddy Mekong rivers merge. There are several viewing points where you can enjoy the scenic view. You will take a boat trip over the Mekong river to Hat Wichittra where you can see the Mekong style of living. Fishing and weaving are the most important sources of income. Later you will visit Pha Taem, a beautifully located national park with high rock cliffs and prehistoric rock paintings of minimal 3000 years old that can be reached via a 500 meter long trail leading from the cliff to the basis. Anthropological studies speculate that these paintings are made by shamane priests either being or just coming out of their state of trance. Here too you will have magnificent views over the Mekong and over Laos. All transfers by private aircon car. In the evening transfer to Ubon Ratchatani and from there by nighttrain (or optionally by flight at a surcharge) back to Bangkok.
Day 6. Bangkok
In the morning arrival at Hua Lampong railway station and onward transfer to your hotel. This module ends upon arrival at your hotel in Bangkok.
Remark: The tempel Prasat Hin Khao Phra Wihan is closed indefinitely for tourism due to a border conflict between Thailand en Cambodia. Consequently day 4 of this tour can not be done. We offer an alternative program for that. Please visit this page frequently. As soon as the temple re-opens, we will let you know.
Angkor secrets of Thailand
Number of persons
Single
Prices per person for low season
2
3
4
5 +
surchg
Comfort journey
All-inclusive journey
Basic journey
Seasonal surcharges : Not applicable. Prices are valid throughout the whole year.
Child discount : Not applicable.
Prices are per person and based on the indicated number of persons.
The steps leading up to Khao Phra Wihan are fairly steep;
Please inquire in advance with Thaitraveldreams to find out if Phra Wihan is accessible;
What is included in the Comfort and Deluxe version is mentioned under the tab Included.
See also this explanation. Which version you choose depends on your own preference:
» Comfort If you want your hotels and tours to be arranged and keep the costs as low as possible. Some things (for instance taxi rides) you need to arrange yourself on location..
» Deluxe If you want a worry free holiday in which everything is arranged in advance. You travel fast and efficiently, without losing time to arrange things yourself on location.
Prices in Thai Baht are leading. Payments can also be made in other currencies such as USD or EUR. In that case, the prices in THB need to be converted at the exchange rate on the day of payment. The mentioned prices in EUR and USD are based on our prices in THB and against an exchange rate of 35 Baht per Euro or 32 Baht per USD