At Home with the Thai
Treasures of Isan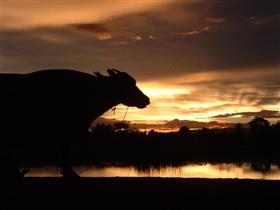 This 4-day module is a more extended version of Homestay Khonkaen. During this homestay in Thailand you will stay a few days at home with a Thai host family in a quiet country village in Isan, the northeastern part of Thailand. In addition to that, you will visit a nearby mountain park for a refreshing nature walk. Start & end in Khonkaen, the heart of Isan, northeast Thailand. For more information about homestays follow the link.
Day 1. At home with the Thai
Arrival in Khonkaen city and transfer to your host family in the country village Khampom. The rest of the afternoon and evening are free to spend at leisure. Stroll through the village and talk with the charming villagers. Your guide will translate. During dinner you will be warmly welcomed by the local Thai village people. Overnight stay at the host family (D).
Day 2. Village life & farming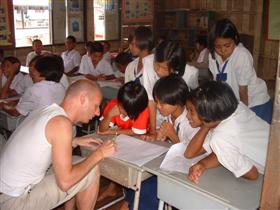 On school days you will visit the village school. See the ceremonial beginning of a school day with the children singing the national Thai anthem, followed by Buddhist prayer. You can enter the classroom for a chat with the children. That will be easy, because your guide will translate everything. Stroll through the village and see how the villagers spend their day at leisure or earn their living. Your guide has a lot of inside information and can tell you anecdotes about local life. Lunch in a local food stall. In the afternoon you will go into the rice fields. Depending on the season, you can see how rice is sown, planted or harvested. Later in the afternoon you will buy the ingredients for your evening meal at the local market. On the way back to your host family you will meet with the many farmers who guide their herds of cows or buffalos back home. Overnight stay at the host family (B, D).
Day 3. A walk through the mountains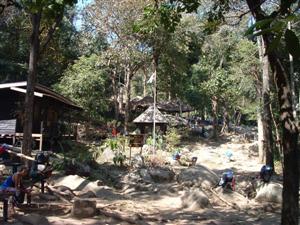 The mountains in the northwest of Isan are among the most picturesque of Thailand, challenging the mountains of the north. Today will take you to one of the nearby National Parks. Depending on the season and your personal preference, you can spend the day with a challenging mountain trek, an easy forest walk, a tour along some beautiful viewing points or a leisure day near a waterfall. All 4 National Parks offer scenic nature with wonderful views. The beautiful morning drive will have you in the right mood. At the end of the day you will return at your host family where your dinner will be ready. Dinner and overnight stay with the host family. As this will be your last dinner with the host family, probably half the village will want to say goodbye to you. Following Isan tradition you will receive many good wishes and a wristfull of strings. (B, D).
Day 4. Khonkaen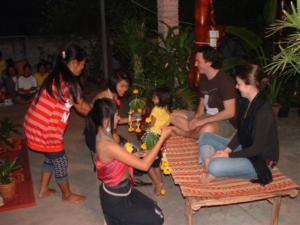 After breakfast transfer to Khonkaen city where this tour ends. From here you can move on to your next destination, for instance Khonkaen to Chiang Mai, Indochina gateway, the Phu Kradung challenge, Angkor heritage, Khao Yai safari or you can travel back to Bangkok by train or bus (we can book this for you).
This tour can start any day but we recommend that you plan your tour such that day 2 will be a weekday because then the school visit is possible. If you want to be sure of certain activities (for instance school visit or rice fields) then contact us in advance. The village school is closed from April till May and in October and activities in the village will be very low. The best period for the Treasures of Isan is June – September and November – March.
At Home with the Thai    (4 days / 3 nights)
Number of persons

Single

Prices in USD

2

3

4 +

surchg

Price per person (USD)

$ 384

$ 298

$ 264

$ 14

---
Start:

Day 1 in Khonkaen city (pickup from train or bus station, airport or hotel)

End:

Day 4 morning in Khonkaen city (dropoff at train or station, airport or hotel)

Included:

All mentioned transfers by local taxi or private car, 3 overnight stays with a Thai host family (comfortable room with fan), 3 x buffet breakfast with fresh fruit juice, An English speaking Thai guide, All admission fees

Remarks:

Should you want to visit Phu Kradung then we need to know in advance, because this requires a specialist tourguide. All the other parks can be selected on the evening before the visit.

Prices in Thai Baht are leading. Payments can also be made in other currencies such as USD or EUR. In that case, the prices in THB need to be converted at the exchange rate on the day of payment. The mentioned prices in EUR and USD are based on our prices in THB and against an exchange rate of 35 Baht per Euro or 32 Baht per USD. Our payment terms apply.