Ayutthaya & Sukhothai
Ancient capitals
Travel between Bangkok and Chiang Mai (or vice versa if you like) on this historical tour of 3 great kingdoms of Thailand (Siam): Ayuttaya, Sukhothai, and Lampang. This is a memorable 3- day tour that will take you through the heart of Thailand, and deep into her glorious past.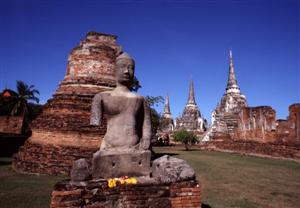 Day 1. Ayutthaya
Morning departure from Bangkok to Ayutthaya. From the 16th to 18th century Ayutthaya was the capital and cultural center of the central Thai kingdom. With influences from Dvaravati, Khmer, Mon & Lawa cultures, Ayutthaya was able to create its own arts and culture from a delicate blend of those cultures. The reigns of 33 kings gave Ayutthaya a great number of fine buildings, monuments and works of art. In 1767 the city was completely destroyed by the Burmese. The remains of the island city are of extreme archaeological importance and the extensively restored historical park of Ayutthaya was selected as a UNESCO world heritage site in 1994. There is ample time to admire the countless ruins of palaces, temples and monuments scattered over the park. Overnight stay in Ayutthaya.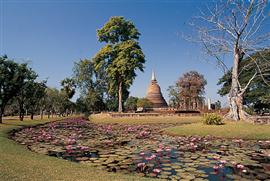 Day 2. Sukhothai
Sukhothai was the first capital of Thailand (then Siam) which enjoyed a golden age under King Ramkhamhaeng, credited with creating the Thai alphabet. The superb palaces, temples and monuments of this great city have been lovingly restored in Sukhothai Historical Park, a UNESCO World Heritage Site and a must-see for all travelers. The Ramkhamhaeng National Museum in Sukhothai city contains an outstanding collection of statues, Buddha images and old celadon found within the old city. Many of Sukhothai's important sites are included inside the old city walls. Overnight stay in Sukhothai (B).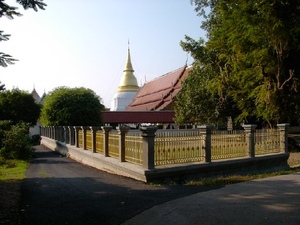 Day 3. Lampang to Chiang Mai
Transfer from Sukhothai to Lampang, the centre of the northern teak industry. The walled temple of Wat Phrathat Lampang Luang is considered the most beautiful temple in Thailand. Its central wihan is made of old teak, and exquisite teak carvings grace the facades of many of its buildings. Another fine example of northern temple architecture is Wat Phra Kaew Don Tao. Lampang is also famous for its brightly colored horse-drawn carriages, a popular form of transport. Optionally you can make a horse carriage ride (not included, your guide can arrange this for you). In the afternoon visit the Thai Elephant Conservation Center. These impressive creatures will demonstrate what they are capable of and you will see a variety of activities such as bathing and feeding of baby elephants and nursing them in a hospital. What exactly can be seen depends on the activities on the day of your visit. Consult with your guide. Then onward to Chiang Mai. This tour ends upon arrival at your hotel.
Ayutthaya & Sukhothai
Start:

Day 1  09:00 hr departure from your hotel in Bangkok

End:

Day 3  approx. 18:00 hr arrival at your hotel in Chiang Mai

Included:

All transfers by private aircon car, 2 overnight stays
(based on twin sharing), 2x breakfast, admission fees and an English speaking licenced tourguide.

Remarks:

This tour can also be done with start in Chiang Mai and end in Bangkok


Prices in Thai Baht are leading. Payments can also be made in other
currencies such as USD or EUR. In that case, the prices in THB need to be converted at the exchange rate on the day of payment. The mentioned prices in EUR and USD are based on our prices in THB and against an exchange rate of 35 Baht per Euro or 32 Baht per USD. Our payment terms
apply.