Cycling in Phuket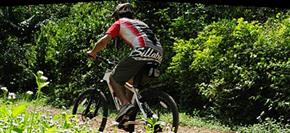 Southern Thailand offers excellent cycling trails along country roads and off-road terrain. We offer daytours and multi-day tours. Mountain biking takes you to places not accessible with most vehicles. The reward is the satisfaction and sense of achievement, the breathtaking views over the sea and the mountains and the exhilaration of coasting down a hill with the wind in your hair. We stop near waterfalls where you can take a refreshing dive. Cycling in Phuket is an excellent interchange between a few days on the beach. We have tours that are suited for participants of all ages who can ride a bicycle and also for those who seek more physically challenging tours.
---
Tour 1. Koh Yai Noi
Full day cycling tour. Departure every Tuesday, Friday and Sunday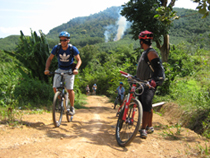 Koh Yao Noi ("little long island") is a sleepy island still enjoying a slow pace of life located in Phang Nga Bay, only 1 hour's boat ride away from the international resort island of Phuket. The moment you step on to these islands the usual stress and worries of every day life melts away and the island pace of life gets a hold of you. While Thailand is a predominantly Buddhist country these islands are mainly populated by peaceful Muslim communities that make a living from fishing, rice farming and rubber tree plantations. The recent arrival of tourism to these islands hasn't affected the warm welcoming locals. Our bike tour in Koh Yao Noi will have us cycling through a small market town, rice paddies, past mosques and fishing villages, through areas of natural jungle rich in plant life and fauna.
This day trip bike tour combines small paved island roads with very little traffic as well as some off road dirt tracks through jungle areas and rubber trees. The distance covered is not excessive and anyone with a reasonable level of fitness will be able to enjoy this cycling tour. Some of the off road sections are hilly and can be a bit challenging but our route can easily be modified to suit the groups biking abilities. Unlike other tours on the mainland, our support vehicle does not join us on Koh Yao Noi. Our mini buses will provide transport from your Phuket hotel to the pier, once we arrive in Koh Yao Noi after a 1 hour scenic boat journey we will be by our self with out mini bus/support vehicle for this Bike Adventure Tour. Be prepared for a fun and challenging day.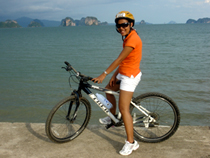 Duration

:

Departure between 07:45 and 08:30 from your hotel in Phuket, arrival around 18:00hr


Children

:

Children between 12 & 16 year are welcome and get a rebate of 400 Baht (

€

8 / U$11)


Bicycles

:

Mountainbikes, helmet and water bottle are included


Distance

:

Approximately 30 km on normal roads and sometimes sandroads


Grade

:

Recreative bicycle tour for people in normal health


Included

:

Transfer from and to your hotel on Phuket, boattransfer to/from Koh Yao Noi, English speaking tourguide, mountainbike, snacks, fruit and drinking water, limited insurance.


Group size

:

2 – 12 persons


Clothes

:

Easy wearing clothes that may get dirty and good shoes


Take along

:

Sunglasses, tanning oil, mosquito repellent, money, camera, swimming gear and a rucksack


Support vehicle

:

This tour on Koh Yai Noi will not have a support vehicle

Tour 2. Phuket countryside (half day tour)
Departure every Monday and Thursday from November 2009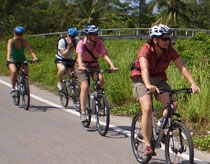 This half day Phuket Bike tour will have our guests cycling on small country roads in the north east of Phuket Island. Biking off-road through palm and rubber tree plantations along dirt tracks you will pass many small traditional Thai villages. The route does also include a few hills. This bike tour is followed by our support vehicle with repair material and medical kit, apart from the off road sections when the mini bus is never too far away. Participants on this tour have also the possibility to visit Phukets "Gibbon rehabilitation center" to see how gibbon monkeys are taken care of before releasing them into the jungle again.
About this tour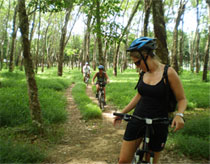 Duration
:
Departure between 07:30 and 08:30 from your hotel in Phuket, arrival 13:30 – 14:00 hr
Children
:
Children between 12 and 16 years are welcome and get a rebate of 200 Baht (€ 4 / U$6)
Bicycles
:
Mountainbikes, helmet and water bottle are included
Distance
:
Approximately 20 km over normal roads and sometimes sand roads
Grade
:
Recreative bicycle tour for people in normal health
Included
:
Transfer from and to your hotel on Phuket, English speaking tourguide, mountainbike, snacks, fruit and drinking water, limited insurance.
Group size
:
2 – 12 persons
Clothes
:
Easy wearing clothes that may get dirty and good shoes
Take along
:
Sunglasses, tanning oil, mosquito repellent, money, camera, swimming gear and a rucksack
Support vehicle
:
A supporting vehicle travels along