Daytrips in Krabi
Phi Phi Island by speedboat
(Every Tuesday & Friday, min. 6 persons)
Pickup at your and transfer to Ao Nang beach. A speedboot will take you in approximately 1 hour to Phi Phi Don island. Visit the Maya bay. There is time to sunbathe, swim or explore the bay. Onward to Phi Phi Lay island with a short stopo at the lagoon where you can take pictures. A Thai lunch is served at the Holiday Inn Resort. After that you travel to Bambo Island. Here too there is plenty time to explore this beautiful island, enjoy the sun or go snorkling. Around 15:00hr the speedboat takes you back to Krabi. Departure every Tuesday and Friday from hotels in Krabi 08:00 – 15:30hr. Tour code DKBVPPS with english speaking guide.
Per person: U$ 68  /  € 61  (2150 Baht)
Minimum 6 participants, every Tuesday & Friday – For more information contact us via email or the Booking & Requests form.

Snorkling on Koh Hong island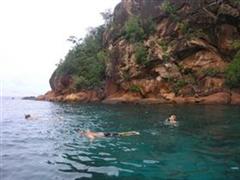 A snorkling tour to Hong Island. Crystalclear sea surrounded by beautiful limestone cliffs. Hong island, only 30 minutes by longtailboat from Ao Nang Beach (15 min by speedboat) is a must-see in the Ao Nang area. You will also visit Lading Island where swallows nests are collected. This too is a lovely location for snorkling. The highlight of today is the Hong Island bay, a natural shelter and perfect for a picnic lunch. Go snorkling or explore the island. Included: all transportation, english speaking guide, snorkling gear, admission fees to the national park, lunch and softdrinks
Per person: U$ 70  /  € 63  (2200 Baht)
Departure daily – For more information contact us via email or the Booking & Requests form.

Jungle crystal pool
(Every Friday, min. 4 persons)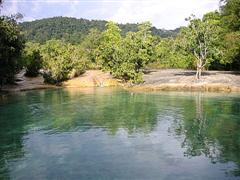 The breathtaking natural wonder of Krabi, the "Emerald pool" is among Thailand's best creations. A mysterious, magical emerald pool surrounded by a nature park displaying colorful vegetation. Getting there takes some efforts, but it will be rewarded. Mother Nature has more to offer. A little down the road from the Emerald pool you find Khao Pra-Bang Khram "Hot springs". A deep clear water pool with a thermal spring of 37 °C. This forest is home to various types of birds, more than any other area in the south. On the way back we stop at Wat Tham Sua (Tiger Cave temple), a Buddhist monastery. Get to see how the monks live in the caves, and visit the 1000 year old Banyan tree. Depart every Friday from Krabi 08:30 – 16:30hr (DKBVJCP, English speaking guide).
Per person: U$ 76  /  € 69  (2400 Baht)
Every Friday, Minimum 4 particpants – For more information contact us via email or the Booking & Requests form.

Let us know your wishes and we will send you your Thailand travel plan – with a price that will make you smile.
For futher information you can use your desptop computer to visit our website.
Join Our Facebook Page