Elephants & Rafting
2 day trekking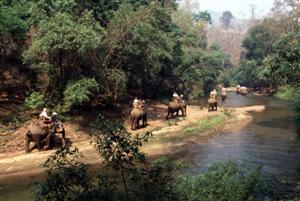 This is a short 2-day tour which incorporates all the elements of an adventurous trek. An ideal tour for those with limited time but who still want to experience a jungle trek. An adventurous yet relaxing tour suitable for non-energetic visitors in good health who desire a "taste" of adventure.
Day 1. Elephants & Hilltribes. The tour starts with a visit to an elephant-training camp in the beautiful area of Chiang Dao, where you can witness how these enormous creatures are taught to labor in the jungle. From here we go to the caves of Chiang Dao, with its beautiful white marble statues from Burma. After lunch we continue by pick-up truck through light jungle to an Akha and Lisu village. The terrain here is mountainous and offers a magnificent view. From here we walk to a Palong village where you spend the night. Dinner is cooked by the guide.
Day 2. Bamboo rafting and waterfalls. After breakfast a short walk and an elephant ride of approximately 1 hour. After the elephant ride we stop at a camp where bamboo-rafts are made. After lunch we will continue the trek on rafts. You can take the rudder and navigate yourself down the river. On the way back to Chiang Mai we visit an orchid nursery where you can admire some 200 different species (depending on the season) of these beautiful flowers. This tour starts on Mondays, Wednesdays, Fridays, & Sundays.
Included: All transfers, lunch & dinner on day 1, breakfast & lunch on day 2, English speaking guide. Start & end at your hotel in Chiang Mai.
| | |
| --- | --- |
| 4,500 Baht | (€129 / U$142 /2p) |
| 3,150 Baht | (€90 /U$100 /4p) |