Flight of the Gibbon
Zipline canopy tour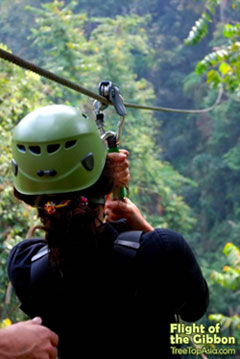 Soar through the lush, ancient rainforest on an extreme adventure like no other on the planet! An easy one hour free VIP bus ride from Chiang Mai.
OVER THREE AMAZING HOURS ZIPLINING
Take a look at the exciting features of our Chiang Mai course.
Highlights:
5km OF ZIPLINES WOVEN INTO THE THAI JUNGLE ECO-SYSTEM
OVER 33 DIFFERENT PLATFORM STATIONS
2 SUSPENDED SKY BRIDGES, 2 ABSEIL DESCENTS
A GUIDED TOUR OF THE WILDLIFE AND VEGETATION ALONG THE COURSE
AT LEAST TWO SKY RANGER GUIDES FOR EVERY GROUP OF UP TO 9 PEOPLE
A DETAILED SAFETY BRIEFING AND PERSONAL EQUIPMENT FITTING
TREKKING AT MAE KAMPONG FALLS AND ITS 7 WONDEROUS TIERS
FLY WITH THE WILD GIBBONS!
This is not just any zipline…it's one-of-a-kind.Both our guests and the press consider us the best in all of Asia!
Here's more reasons why:
A free Thai meal with bottled water is included during the zipline tour
A free R/T shuttle from Chiang Mai is included
Air-conditioned, luxury 9 person van shuttle is approximately 55 minutes
maximum weight 286lbs (130kg). No minimum age required but minimum height 3′ 3″ (100 cm).