Homestay Khonkaen
At home with a Thai host family
During this homestay you will be immersed in Thai village life for a few days, in a quiet country village in Thailands northeastern region Esan. Traveling through Isan is like traveling back in time. The people of the Isan pursue agrarian lifestyles dictated by the annual cycle of the farming seasons and unchanged by the passage of time. The region's ancient cultural traditions and customs in music, folk dances, legends and festivals are better preserved here than anywhere else in Thailand and the population is friendly and charming, even though it is among the poorest of Thailand.
This program is particularly fun for children, because the Thai village children love to play with foreign children.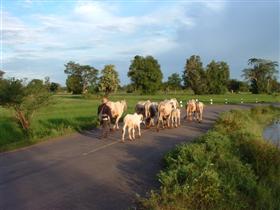 Day 1. At home with a Thai family
Today you will travel to your host family in the country village Khampom. Upon arrival in the afternoon you can take a leisurely stroll through the village, accompanied by your guide who has a lot of inside information and can tell anecdotes about village life. Observe village life and local activities such as cotton or silk weaving or production of straw mats or rice noodles. You can try everything for yourself if you want. Have informal conversations with the charming villagers, with your guide translating. Which activities will be done depends on the season and the day of your visit. Click for more info about homestays. During dinner you will be warmly welcomed by the local Thai village people. Overnight stay with your Thai host family.
Day 2: Village life & farming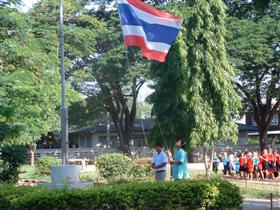 On schooldays you will visit the village school. See the ceremonial beginning of a school day with the children singing the Thai national anthem followed by Buddhist prayers. Then you will enter the classroom to talk with the children. Your guide will translate everything again. This schoolvisit will be one of your more memorable experiences. Continue your walk through the village, stopping from time to time to see how the villagers leisurely spend their day or earn their living. After lunch you will go into the rice fields. See how rice is grown or harvested, depending on the season. Visit the village market and buy the ingredients for your evening meal. Walking back to your host's home you can see the village farmers guiding their cows or buffalos back home. As this will be your last dinner with the host family, about half the village will want to say goodbye to you. Following Isan tradition you will receive a lot of good wishes and a wrist full of strings tied with the villagers' wishes for you… Overnight stay again with the host family (B, D).
Day 3: End of this module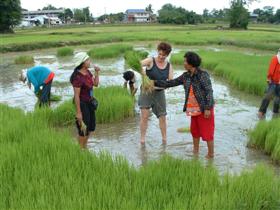 After breakfast you will transfer to Khonkaen city where this module ends. From here you can move on to your next destination; for instance Khonkaen to Chiang Mai or Indochina route or Phu Kradung challenge or Angkor heritage or Khao Yai safari. You can also go back to Bangkok by train, bus or flight (we can book this for you) or extend your stay for as many nights as you want.
This tour can start any day but we recommend that you plan your tour such that day 2 will be a weekday when the school visit is possible (except for some bank holidays and not always predictable local holidays). The village school is closed for holidays from March till May and in October and activities in the village during these times will be very low. The best period for the Homestay Khonkaen tour is May – Sep and Nov – Mar. If you want to be sure of certain activities, for instance the visits to the school or the rice fields, then please contact us prior to your booking.
Very nice: two of our spanish visitors were so kind to translate this tour program into spanish language (link opens in new window). With many thanks to Mari en Litos!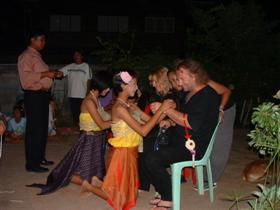 Homestay Khonkaen   (3 days / 2 nights)

Prices per person

Number of persons

Single

2

3

4

5 +

surchg

USD

$ 240

$ 183

$ 164

$ 161

$ 11

Euro

€ 217

€ 166

€ 148

€ 145

€ 10

---

Start:

End:

Day 1  in Khonkaen city  (pickup from train station, bus terminal, airport or hotel)

Day 3  in Khonkaen city  (drop off)

Included:

Transfer from location of arrival in Khonkaen to your host
address, 3 overnight stays with the host family (comfortable room with fan), Meals 2x breakfast, 1x lunch, 2x
dinner, An English-speaking local guide, Transfer from host address to location of departure in Khonkaen city on
day 3. Our

Prices in Thai Baht are leading. Payments can also be made in other
currencies such as USD or EUR. In that case, the prices in THB need to be converted at the exchange rate on the day of payment. The mentioned prices in EUR and USD are based on our prices in THB and against an exchange rate of 35 Baht per Euro or 32 Baht per USD. Our payment terms
apply.