Indochina gateway
Khonkaen to Ubon Ratchathani
Travel along the Mekong through barely visited Thai towns. These are actually some of Thailand's most traditional, interesting, and lovely cities; but located as they are along the Mekong River border with Laos, they are well off the tourist trail and are the lovelier for it! See famous historical sites, ancient ruins, and surrender to the tranquility and rural lifestyle that is giving way to the "modern" in many parts of the world. Experience it now!
Day 1. Khonkaen – Nakhon Phanom
Travel from Khonkaen to Nakhon Phanom via Ban Chiang or via Phu Khum Khao. Ban Chiang is an important archaeological site with pots and other items unearthed that are 4,000 to 7,500 years old. One part of this National Museum, a UNESCO World Heritage Site, shows exhibits from the excavations; the second part is an open air museum around the actual archaeological digs. Phu Khum Khao is the place where fossilized dinosaur remains were discovered by a senior Buddhist monk in 1970. The number of dinosaurs discovered has nowadays reached 6 specimens, with more than 630 pieces of bones, dating back 130 million years in time with 1 individual skeleton almost completely intact. Choose the route of your preference. Overnight stay in Nakhon Phanom at the Riverview Hotel.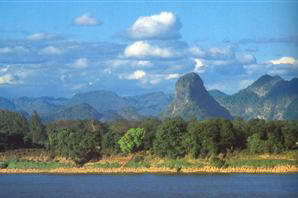 Day 2. Nakhon Phanom – Mukdahan
Tour the picturesque town of Nakhon Phanom. Visit the old breezy French colonial style City Hall built at the beginning of the 20th century followed by the place where Ho Chi Minh lived for 7 years during the 1920s and the St. Anna Catholic Church. Go shopping on the corner near the Ho Chi Minh Clock Tower where silver, cotton & silk textiles are offered at a fraction of Bangkok prices. Lunch at a charming riverside restaurant. Move onward to a local village in the area and experience the real Thailand the way that few foreigners have been privileged to. Visit Phra Thad Phanom, the most revered shrine in the Northeast with a 52-metre Laotian-style tower said to enshrine a breastbone of Lord Buddha. Its age is food of legends, most likely over 1,500 years old but restored in 1977 when it collapsed due to flooding. Continue to Mukdahan for overnight stay.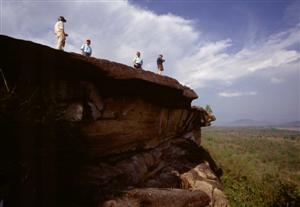 Day 3. Mukdahan – Khong Chiam
Visit the morning Indochina Market in Mukdahan. Products from Vietnam, China, Laos & Cambodia make their way here and are sold to local people. Enjoy lunch with a view overlooking the Mekong into Laos! Enjoy the scenic views of the "Two color river" where the blue colored Moon and the muddy Mekong rivers merge. Take a boat trip over the Mekong River and see the Mekong style of living. Fishing and weaving are the most important sources of income. Lunch in Khong Chiam at one of the Mekong raft restaurants. Visit the Chong Mek border market, then onward to the rock cliffs of Pha Taem which can be reached via a 500 meter long trail. Enjoy the magnificent late afternoon views from the cliff over the Mekong and the mountains of Laos, beautifully lightened by the setting sun. Transfer to Tohsaeng Hotel in Khong Chiam where you will stay overnight.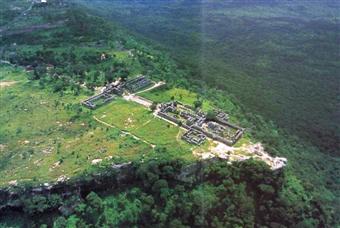 Day 4. Khao Phra Wihan – Ubon Ratchatani
The Angkor temple complex of Khao Phra Wihan on the Cambodian border was built even before its famous brother, the Angkor Wat in the heart of Cambodia. Unlike other Angkor temples in Thailand the Khao Phra Wihan temple has not undergone the restoration efforts of the Fine Arts Department. This only adds to the sense of drama and historical value. Walk up the steep stairway to the centre on a cliff-top. Watch the spectacular views overlooking the virgin Cambodian countryside. Later on visit the Pha Moh Ee Daeng cliff. Rock carvings exhibit many similarities to some of the Hindu subject matter at Khao Phra Wihan, but experts disagree exactly which site preceded the other. Have a light meal on the way back to Ubon. This tour ends around 18:00 hr upon arrival Ubon city (hotel, train station, bus terminal or airport) for your onward transfer. You can choose to stay the night in Ubon Ratchathani or take a flight / nighttrain / bus to Bangkok (not included).
This tour starts in Khonkaen, for instance after the Homestay Khonkaen. We can arrange your transfer to Khonkaen before you begin this tour. From Ubon Ratchatani we can book a hotel room for you if you want to stay overnight in Ubon, or we can arrange your onward transfer to your next destination, for instance flight or night train to Bangkok.
Remark: The Khao Phra Wihan temple (Preah Vihear in Cambodian language) is presently closed indefinitely for tourism due to a border conflict between Thailand and Cambodia. This tour can therefore not be booked until further notice. Visit this page frequently, as soon as the temple is open again then we will mention that.
Indochina Gateway    (4 days / 3 nights)
Number of persons

Single

Prices in USD.

2

3

4 +

surchg

Price per person (USD)

$ 586

$ 439

$ 365

$ 85

---
Start:

Day 1 in Khonkaen (morning pickup at hotel or point of arrival)

End:

Day 4 in Ubon Ratchathani (upon arrival early evening)

Included:

All transfers by private aircon minivan with driver, 3
overnight stays based on twin sharing, 3 x breakfast, all admission fees, an English speaking Thai guide.

Not included:

Transfer to Khonkaen before start of this module,
overnight stay in Ubon Ratchathani on day 4, onward transfer from Ubon to your next destination


Prices in Thai Baht are leading. Payments can also be made in other
currencies such as USD or EUR. In that case, the prices in
THB need to be converted at the exchange rate on the day of payment. The mentioned prices in EUR and USD are based on our prices in THB and against an exchange rate of 35 Baht per Euro or 32 Baht per USD.
apply.