Khao Yai safari
Khao Yai National Park
Khao Yai, conveniently located near Bangkok, is one of the biggest and most visited National Parks of Thailand. The park features beautiful waterfalls and scenery and is home to many animal species such as elephants, bears, deer and hornbills. Admire the beauty of the park and its flora and fauna at leisure on the first day. The second day you will reach higher altitudes and walk through refreshing jungle and scenic mountain landscapes. There is time to take a swim near one of the waterfalls. Based in Pak Chong, just outside Khao Yai National Park. (3 days, 2 nights)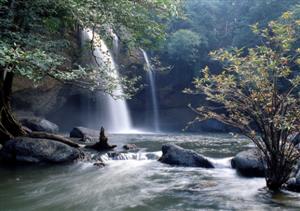 Day 1. In the morning you arrive at your hotel in Pak Chong, at the foot of Khao Yai National Park. The tour that we have set out is easy and can be done by nature-lovers of all ages. Transfers during this tour are partly by car and partly by foot. In the afternoon you will visit the volcanic caves with beautiful limestone stalagmites and stalactites. Later visit the batcaves, where at sunset millions of bats are swarming out to hunt for nightly food. Falcons try to seize the bats as food, an experience not to be missed. In the evening you can optionally visit the friendly night market at Pak Chong. Overnight stay at the Khao Yai Garden Lodge, a spaciously set up and picturesque nature resort that fits perfectly in the natural landscape of Khao Yai National Park. The hotel has a large collection of orchids, turtles, butterflies and plants, a swimming pool and a cozy restaurant.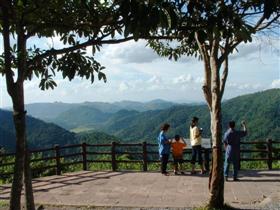 Day 2. Today you'll drive deep into the mountains. Walk through refreshing morning nature and scenic landscapes of bizarre mountains where untouched jungle still exists. Follow elephant trails along mountain streams and see magnificent waterfalls where you can take a swim, so take your swimming gear with you. Admire the large variety of orchids and the magnificent views from the cliff at 1270m altitude. The experience of being in the jungle with its many sounds is already unique. The park has an extensive fauna, among which Thailands largest population of elephants (200), many kinds of deer, cats, gibbons, wild bears and birds among which the hornbill. Stops will be made at interesting places. In the afternoon drive to the "salt licks", a place where elephants gather in the evening. Return at the hotel around 19:30hr. Overnight again in Khao Yai.
Day 3. After breakfast (included) you check out of the hotel in Pak Chong. Transfer to the bus- or train station in Pak Chong where this tour ends. From there you can travel onwards to your next destination, for instance Homestay Khonkaen, Angkor heritage or Ancient capitals or travel to Bangkok by train or bus (we can book this for you).
Included: All transfers, 2 overnight stays (superior room), 2x breakfast and an English speaking tour guide. Entry fees to Khao Yai National Park not included. This tour begins and ends in Pak Chong. You can book your transfer to Pak Chong with us.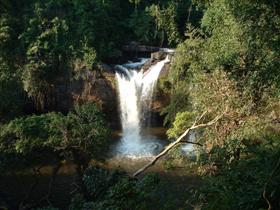 Khao Yai safari   (3d / 2n)

Number of persons

Single

Prices p.p.,

1

2+

surchg

USD

$ 178

$ 125

$ 52

---

Start:

Day 1 upon arrival at the hotel in Pak Chong.

End:

Day 3 at checkout of hotel in Pak Chong.