Khao Yai – Vineyards & National Park
Day 1. Vineyards of Khao Yai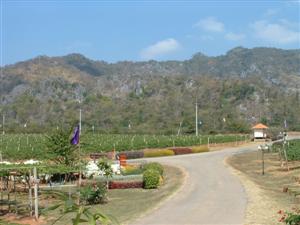 Via a lovely country route you will drive from Bangkok to the Granmonte vineyards near the Khao Yai national park. You have ample opportunity to visit the vineyards and taste the wines. Your guide will show you around. Of course there is also wine for sale, should you want to lighten up your stay in Thailand. The estates are modestly sized and wonderfully located. The owner of Granmonte has studied in Germany and has worked before at multinational companies in Thailand. He is internationally oriented and a good marketeer: his wines carry the western name "Granmonte" and the wine label design is modern. His daughter studies oenology in Adelaide, Australia, and will take over the family business in due course. In the afternoon you can enjoy a sumptuous lunch, romantically seated under a parasol with magnificent views over the mountains. After that onward to your hotel the Khao Yai Nature Life Resort, a spaciously set up and picturesque nature resort that fits perfectly in the natural landscape of Khao Yai National Park. The hotel has a swimming pool and a cozy restaurant.
Depending on the day of the visit and the possibilities, instead of Granmonte we can also visit one of the other vineyards PB Valley or Village Farm.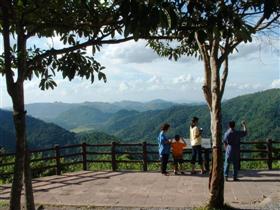 Day 2. Khao Yai National Park
Today you'll drive deep into the mountains. Walk through refreshing morning nature and scenic landscapes of bizarre mountains where untouched jungle still exists. Follow elephant trails along mountain streams and see magnificent waterfalls where you can take a swim, so take your swimming gear with you. Admire the large variety of orchids and the magnificent views from the cliff at 1270m altitude. The experience of being in the jungle with its many sounds is already unique. The park has an extensive fauna, among which Thailands largest population of elephants (200), many kinds of deer, cats, gibbons, wild bears and birds among which the hornbill. Stops will be made at interesting places. In the afternoon drive to the "salt licks", a place where elephants gather in the evening. Return at the hotel around 19:30hr. Overnight again in Khao Yai.
Day 3. End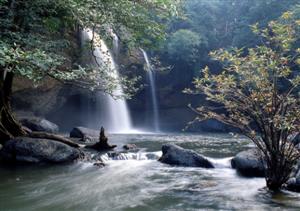 After breakfast transfer to the bus- or train station in Pak Chong where this tour ends. From there you can travel onwards to one of our connecting tours Homestay Khonkaen, Angkor heritage or Ancient capitals. You can also travel back to Bangkok, either directly by train or bus or via a daytour to Ayutthaya and Bang Pa In (we can book this for you).
Included: Two overnight stays including breakfast (superior room), private tour & transfers on day 1 (no other participants), join tour & transfers on day 2 (with other participants), lunch & wine tasting on day 1, admission fees Khao Yai National Park and an English speaking tour guide on both days. This tour starts in Bangkok on day 1 (morning pickup from your hotel) and ends in Pak Chong on day 3 after breakfast (we can organise your transfer to your next destination).
Khao Yai – Vineyards & National Park   (3d / 2n)

Number of persons

Single

Prices p.p.

2

4

surchg

USD

$ 368

$ 289

$ 52

---

Start:

in Bangkok on day 1 (morning pickup from your hotel).

End:

in Pak Chong on day 3 after breakfast (we can organise your transfer to your next destination).


Prices in Thai Baht are leading. Payments can also be made in other
currencies such as USD or EUR. In that case, the prices in
THB need to be converted at the exchange rate.
on the day of payment. The mentioned prices in EUR and USD are based on our prices in THB and against an exchange rate of 35 Baht per Euro or 32 Baht per USD. Our payment terms apply.