Lisu Lodge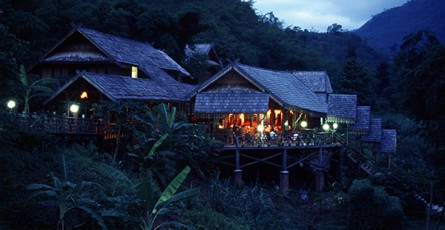 Day 1. Lisu Lodge – Lahu outpost
Morning departure from Chiang Mai to Lisu Lodge. A traditional welcome drink will be served. Drive by local open-air truck to the area near Pha Mieng. Walk along the jungle trails to the remote village of Hmong Pha Mieng. Meet the inhabitants of this small hilltribe village in the jungle. Enjoy a picnic lunch in the forest. After lunch walk to the Red Lahu Village of Pha Daeng, on top of the mountain. Continue walking along a mountain ridge to the Lahu village Kup Kap. A spectacular view awaits you, overlooking the Mae Taeng district and Chiang Mai town glittering at night in the distance. Beyond the mountain peaks to the west lies Myanmar (Burma). Dinner and overnight at the Lahu outpost in a typical Lahu house. Accommodation is simple: mattress, pillow, bed linen, blankets, towels, mosquito nets, etc. Two Western-style toilets and a communal shower are provided.
Walking distance: About 12 – 15 km / 4 – 5 hours.
Difficulty: Medium grade walking, mainly uphill.
---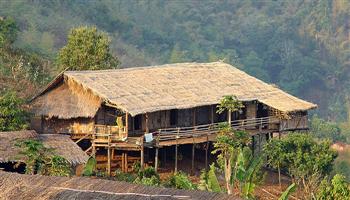 Day 2. Lahu outpost – Lisu lodge
Breakfast at the Outpost. Then, walk 2 hours downhill passing the clear pool of Huay Sadarn Waterfall. Experience a 45-minute inflatable raft trip downriver to a traditional Thai country village. Short transfer to the Elephant Camp, where a picnic lunch can be enjoyed in this remarkable setting. In the afternoon, enjoy an hour of elephant riding through the beautiful mountainous jungle down to the river where you will take a short drive to an Akha village for a visit and chat with the shaman (spirit doctor). From there, return transfer to Lisu Lodge. A welcome drink will be served before checking into your room. Then you will receive a briefing and orientation for you to select your activity for the following morning. Guided by a Lisu villager, walk from Ton Lung temple to visit the herbal garden. Then continue through the village with a stop for a cup of tea at the village shaman's house. Chat with the Lisu shaman and learn about his life, beliefs, curing rites and Lisu traditions. Visit the cultural center and 'museum' created by the villagers. Inside you will find a collection of typical household items and tools from the Lisu as well as well as the Akha mountain peoples. Time at leisure until Thai dinner with a traditional Lisu dance show. Overnight at Lisu Lodge.
Walking distance: About 3 – 4 km / 1.5 – 2 hr.
Difficulty: Hard grade walking, mainly down hill.
---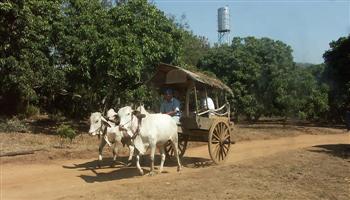 Day 3. Lisu lodge – Akha outpost
Breakfast at the Lodge. An ox-cart ride will take you through farmlands and orchards to Baan Pang Mai Daeng village. Leave Lisu Lodge and head to a Palong village in Chiang Dao. A tasty picnic lunch will be provided en route. A solid walk uphill of about 3 hours takes you to the Akha Outpost. Set in an isolated area with spectacular views. For dinner, help your guide whip up a tasty, wholesome mountain meal. Dinner and overnight at Akha Outpost, modeled on a typical Akha house. Basic amenities are provided: mattress, pillow, bed linen, blankets, towels, mosquito nets, etc. Two Western-style toilets and a communal shower are provided. If time allows then you can book a second 1-hour activity at a small charge or go on a freestyle biking tour (not guided, but with a road book of recommended itineraries).
Walking distance: About 10 – 12 km / 3 – 4 hr.
Difficulty: medium grade walking, mainly up hill.
---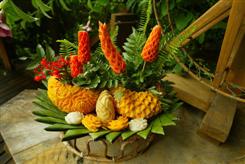 Day 4. Akha outpost – Khum Lanna
Breakfast at Akha Outpost. Start walking downhill passing by the waterfall to another Akha village. Take the short drive to Khum Lanna, where you will be be greeted by local Lanna people. A tasty welcome drink (herbal tea or fruit juice from the garden) will be served prior to the briefing and orientation when you will choose your afternoon activity. Khum Lanna will provide Thai farmer shirts for guest use during their stay. Enjoy preparation for Lanna country-style BBQ lunch with a garden tour around the compound; collect different seasonal herbs, vegetables, and fruits for cooking. Learn how to ride a water buffalo and then do the actual riding. Have no fear: buffalos are among the kindest of animals. In the afternoon you will make a guided biking tour around Khum Lanna (other activities are available). Late afternoon at leisure until the second Thai cooking class in the early evening. Enjoy the fruits of your labors with a full 4-course sit-down Thai dinner with your host and friends. Watch a million stars beside a campfire in the garden. At leisure until the scrumptious dinner which you prepared already in the afternoon. Overnight at Khum Lanna.
Walking distance: About 7 – 8 km / 2 – 2.5 hr.
Difficulty: easy grade walking, mainly down hill.
---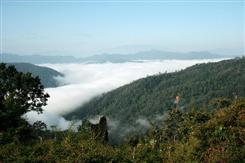 Day 5. Khum Lanna
Early morning wake-up with coffee/tea brought to your room. A bike ride towards the sunrise along the rural country road via San Kwang village to Phrao to visit an early morning local market where local coffee is available. With the help of your guide you may buy local cookies and flower garlands for the temple offering on the way back. Bike back to Khum Lanna with a stop to visit Wat Pa Gee. At Khum Lanna you can refresh or shower before a local Lanna-style breakfast, which is set on the riverside. Then, enjoy some light biking to Wiang Phrao Wung Hin (the ancient city 30 years older than Chiang Mai). Enjoy a picnic lunch on the top of the mountain, which has a fantastic overview of the entire Phrao valley and Khum Lanna. Bike back to Khum Lanna. Refreshment and check-out. End of the Lisu Lodge Experience.
REMARKS
– This tour can also be booked in 2, 3 and 4-day version;
Lisu Lodge
High season
Low season
Prices per person
US$
Euro
US$
Euro
Lisu Lodge Experience 

 2-day tour

$ 103
€ 93
$ 95
€ 86
Lisu Lodge Soft adventure 

2-day tour

$ 168
€ 151
$ 160
€ 144
Lisu Lodge Trekking 

3-day tour

$ 361
€ 326
$ 333
€ 301
Lisu & Lanna Trekking 

4-day tour

$ 544
€ 491
$ 490
€ 443
Lisu & Lanna Trekking 

 5-day tour

$ 659
€ 595
$ 586
€ 529
  High season:
1-Nov – 30-Nov,   and   18-Dec – 31-Mar,
  Low season:
1-Dec – 17-Dec,  and   1-Apr – 31-Oct,
Prices in Thai Baht are leading. Payments can also be made in other currencies such as USD or EUR. In that case, the prices in THB need to be converted at the exchange rate on the day of payment. The mentioned prices in EUR and USD are based on our prices in THB and against an exchange rate of 35 Baht per Euro or 32 Baht per USD. 
All prices are per person for minimum 2 persons.