Self-drive tour northern Thailand
This module is a self-drive car tour of about 700 kilometres, excursions not included. You will roam the region of the Golden Triangle in the upper north of Thailand. You will drive here along the border with Burma, China and Laos. It is an area with a great cultural and ethnic diversity. Further, it is a mountainous area amongst beautiful nature. Various excursions are possible on your way. For a big part this car trip goes through the hills. The distances per day are not too long, except for the last day. You will get a good car that is suited for the terrain via our car rental program and we will book your hotels on route.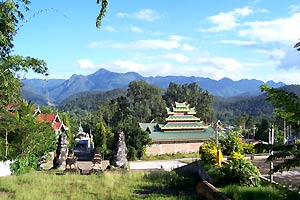 Day 1. Chiang Mai – Chiang Dao
At your hotel the rented car is ready in the morning. Today the tour starts with a trip to Chiangdao. Don't forget to visit the elephants working camp in Chiangdao on your way. You must start driving not later than 08.30 h., because the distance for this first day is about 175 kilometres. The major part of the route goes along the Burmese border. You will spend the night at Tangerine Ville Hotel at the rim of the cosy little city of Fang. During the trip you can go on two excursions.
Excursion 1: The Mae Sa Valley. An area with many resorts and the elephants training camp of Mae Sa. On your way you will pass a few orchid nurseries, a snake farm and the Mae Sa Waterfall. If you drive a little further, you will come to the Queen Sirikit Botanical Gardens.
Excursion 2: The caves of Chiangdao. You can hire a guide (with lantern) on the spot.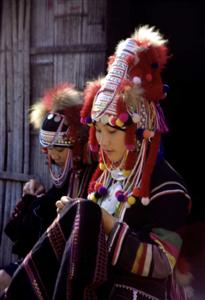 Day 2 Chiang Dao – Mae Salong
Continue your way through the Fang National Park. There is a hot spring, where you can enjoy a steam bath. You will find it along the new by-pass of Fang that starts just in front of the hotel. You will drive on to Thaton, a good spot for a lunch. There are various small restaurants at the Mae Kok river. Then on in the direction of Doi Mae Salong. On your way to the small village of Mae Salong you will pass a local market where you will find all kinds of local products, which are mainly sold by the hill tribes. From Thaton (Road H1089) the climb to a mountain pass starts. You will stay overnight in Mae Salong Villa. From your bungalow you have a beautiful view over the mountains. On your left you see the temple of Mae Salong. The resort has an excellent kitchen with Thai/Chinese food. This small town lies at an altitude of more than 1,000 metres and during the winter months it can become quite cold there.
Day 3 Mae Salong – Chiang Saen
Today you will leave Mae Salong and go on your way to the Golden Triangle (Baan Sop Ruak). The distance today will be about 95 kilometres. This is not really long, but there are many sights, so take your time for photo stops. In Mae Sai the road ends at the bridge that separates Thailand from Myanmar (Burma). The little town is a big market where all kinds of articles are sold that have been imported from China. In Tachilek, at the Burmese side of the border, you can buy the same goods at even lower prices. Furthermore there is also a market where semiprecious stones are sold; but caveat emptor, beware of fakes! When you have finished "marketing", you can make nice trips by moped-rickshaw at the Burmese side of the border to the many sights of Tachilek. Finally, at the end of the afternoon, you will drive to the old little town of Chiang Saen, where you will stay overnight at Nam Khong River Side Hotel, about 40 kilometres from Mae Sai.
Excursion 1: Thoed Thai to Mae Kham. The distance between Thoed Thai and Mae Kham is about 30 kilometres, of which 15 kilometres is unpaved track. The road goes to the border. You will pass through different small mountain villages. In this area the following hilltribes are living: Akha, Lahu, Lisu and Hmong. Very nice is Lalichi Waterfall. In November the sunflower fields are a beautiful sight!
Excursion 2: Mae Fah Luang Botanical Gardens (open 08.00 – 18.00 h.) are surely worthy of a stop. The Gardens are part of the Royal Palace of Doi Tung. In the palace you can get a guided tour, too and, amongst other things, see the Queen- Mother's room. Since her passing, everything in this room has been left untouched and thus you are only allowed to look into it through the window.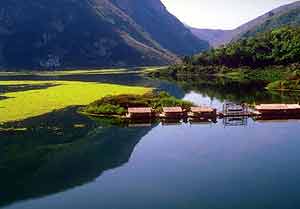 Day 4. Chiang Saen – Chiang Khong
The day distance for today is short, only 53 kilometres; so you have plenty of time to make a trip on the Mekong river. A one hour boat trip costs about 350-400 Baht. Should you have had too little time to visit Tachilek, yesterday, then you can still do it today. Chiang Saen is a quiet small town at the Mekong river that goes back to the Lanna era. In the olden times King Saen Phu had his seat in this town. Chiang Saen was the capital city of the Kingdom of Yonok and it lies 8 kms south of Baan Sop Ruak (the Golden Triangle). It still has remainders of a city wall.
Here you can visit a number of interesting temples, of which Wad Chedi Luang and Wad Pasak are the most important ones. Recently ships from China can reach this harbour city, too, and a vivid trade flourishes. From Chiang Saen you will drive along the Mekong river in the direction of Chiang Khong. Take the road through Had Bai and you will pass a few Lahu and Lisu villages. There are beautiful views over the river, for sure worth a photo stop. On your way you may get out for a while at Wad Prathaat Pha Ngao. In the temple compound there is a path upward, where there is a white pagoda with a beautiful view over the Mekong river. Chiang Khong is a small border town, where one can cross over into Laos (with a visa). The town at the other side is called Huai Xai and it lies in Bo Keo province. In this river giant catfish are swimming. Some of them weigh up to 200 kilograms. You will stay overnight in Nam Khong Riverside hotel, with a view over the Mekong. This is a well-maintained hotel that has kind personnel.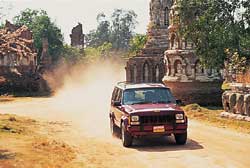 Day 5. Chiang Khong – Chiang Mai
Today it will be a long trip back to Chiang Mai, through Chiang Rai. It is worth stopping at Charin Garden Resort, where one can take good coffee with tasty apple pie. A little after the small town of Mae Kachan there is a sight: a "hot spring". Although it is touristic, it is nice for stretching your legs and taking a stroll through the market. Across the road there is another good restaurant: Wiang Dao. The distance left to Chiang Mai is now only 64 kilometres, and you will go along a quickly streaming river that has many big rocks. Especially in the summer months it is a nice idea to cool down a little in this river.
The price for this tour depends on the car that you rent and the hotels that you choose. The below prices are starting prices for the indicated hotels for 2 or 4 persons. Start every day.
| | | | | | | | | | | | |
| --- | --- | --- | --- | --- | --- | --- | --- | --- | --- | --- | --- |
| 8,680 Baht |   ( | € | 248 |  / | U$ | 275 |  / | 2p |  / | auto cat. A | ) |
| 8,000 Baht |   ( | € | 229 |  / | U$ | 253 |  / | 4p |  / | auto cat. B | ) |