Thailand Adventure in the North
12 Days
This holiday offers lots of adventure. A bicycle journey through Bangkok takes you to places that remain hidden for many Thailand visitors. In Kanchanaburi you visit the wonderful Erawan waterfalls, make a spectacular trainride on the Burma Death railway and you stay overnight in a fairytale, torch lit floating hotel. Travel by nighttrain to Chiang Mai, the capital of Thailands north. During a two day naturetour you will explore the beautiful mountain around Chiang Mai, float down a river on a bamboo raft, make a ride on an elephants back and stay overnight in a hilltribe mountain village. This adventurous holiday ends on the beaches of Koh Samui.
Day 1 – 2. Bangkok
Arrival at Bangkok International Airport and transfer to your hotel. The rest of the day is free. On day 2 you will explore Bangkok by bicycle. This tour will bring you to places hardly visited by tourists. You will ride through markets and little alleys. The route changes every day. Take a boat trip across the Chao Phraya river and continue your tour through a green landscape scattered by fruit plantations and typical Thai style houses. Listen to the singing birds and get a friendly Hello from everyone you meet. No cars, no traffic jams. Overnight stays in Bangkok.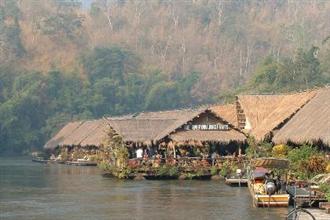 Day 3. River Kwai
Drive through the rural landscapes outside Bangkok. A longtail boat takes you to the famous Floating Market of Damnoen Saduak. See, feel and smell the old style and traditional way of selling and buying vegetables and fruits from small boats. Onward to Kanchanaburi to visit the famous Bridge over the River Kwai. The worldwar II history of the bridge is beautifully depicted in the famous movie of David Lean in 1957. Later you will visit the Jeath museum and the war cemetery. Onward to board a longtail boat that will take you, over the River Kwai, to the River Kwai Jungle Rafts Hotel, nicknamed the Floatel. This place is magic. The floating bungalows are built on bamboo-rafts surrounded by magnificent jungle. The accommodation is basic with private bath and shower. There is no electricity, the hotel is lit by torches in a very cosy atmosphere. It is possible to take an elephant ride, see Burmese Mon dancing or swim in the river.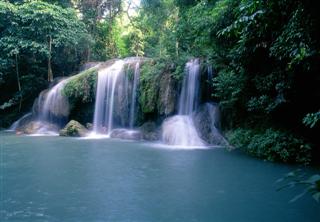 Day 4. Erawan falls
Visit the wonderful waterfalls of Erawan National Park. The Erawan falls cover 7 levels over a total distance of 1550 meter and belong to the most beautiful falls in Thailand. You can walk up to all 7 levels. The highest levels require a bit of creative walking but the climb is more than worth the effort. You can swim on various locations. Around the park there are various caves with impressive and sometimes bizarre stone formations. Later you will make a trainride on the famous Burma Death railway. The scenery is stunning, especially the part over the wooden bridge construction is spectacular. Make sure that you have your cameras ready. On the way to Bangkok you will visit the Nakhon Pathom chedi, the world's highest Buddha monument. Arrival at Hualampong, Bangkoks main railway station, for your nighttrain to Chiang Mai.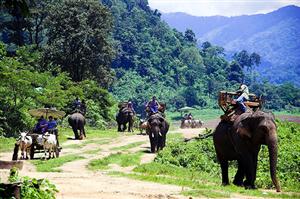 Day 5 – 7. Chiang Mai jungle tour
Arrival in Chiang Mai in the morning of day 5. This day is free. Day 6 and 7 you will make a light 2 day jungle tour through the mountains of north Thailand. Visit an elephant-training camp in the beautiful area of Chiang Dao. Witness how these enormous creatures are taught to labor in the jungle. Onward to the caves of Chiang Dao, with its beautiful white marble statues from Burma. After lunch we continue by pick-up truck through light jungle to an Akha and Lisu village. The terrain here is mountainous and offers a magnificent view. Walk to a Palong village where you will spend the night. Dinner is cooked by the guide according to western hygienic standards. Breakfast on day 7. Continue with a short walk and a 1 hour elephant ride. Enjoy the views of the jungle while sitting on top of the elephant. Stop at a camp where bamboo-rafts are made for lunch. Continue the tour by rafting. On the way back to Chiang Mai stop at a small market and an orchid-nursery where you can admire some 200 different species (depending on the season) of these beautiful flowers. Return to your hotel in Chiang Mai around 17:00 hr for overnight stay.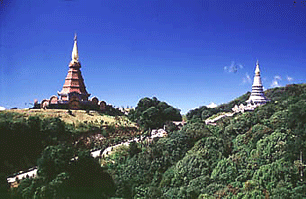 Day 8. Doi Inthanon & Doi Suthep
Doi Inthanon, the highest mountain of Thailand (2565m), is popular for its magnificent waterfalls and its excellent views. The climate is cool all year round. See various waterfalls like the spectacular Mae Yai Falls and the Mae Klang waterfall beside the park entrance. See a Karen weaving village, well worth a visit for textile lovers. Onward to Doi Suthep, probably the most famous temple of Chiang Mai and beautifully located on a mountain top. From the top you have a splendid view over Chiang Mai. The temple can be reached via the "Dragon Stairs". This stairway has at least 300 steps, on both sides flanked by seven-headed naga's (mythical snakes). Back to Chiang Mai. The evening is free at leisure. Well worth a visit is the famous night bazar, where things are sold that you didn't even know existed. Overnight stay in Chiang Mai.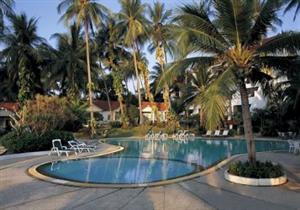 Day 9 – 12. Koh Samui
On day 9 a morning flight will take you from Chiang Mai straight to Koh Samui. Transfer to your hotel on the peaceful beach of Bophut or the more vibrant beach of Chaweng. These days are free at leisure to enjoy sun, sea and sand. On day 12 you will fly to Bangkok, where you will arrive on time for your connecting flight back home. This dream holiday ends upon your arrival at Bangkok International Airport.
Thailand Adventure in the North
Number of persons
Single
Prices per person for low season
2
3
4
5 +
surchg
Comfort journey
$ 1274
$ 1134
$ 1058
$ 1021
$ 232
All-inclusive journey
$ 1433
$ 1264
$ 1173
$ 1126
$ 232
Basic journey
$ 730
$ 730
$ 730
$ 730
$ 232
Surcharge high season : $ 37 per person / $ 37 per single room
Surcharge peak season : $ 73 per person / $ 73 per single room
Child discount : $ 99 per child
Prices in Thai Baht are leading. Payments can also be made in other currencies such as USD or EUR. In that case, the prices in THB need to be converted at the exchange rate on the day of payment. The mentioned prices in EUR and USD are based on our prices in THB and against an exchange rate of 35 Baht per Euro or 32 Baht per USD.
Prices are based on the indicated number of persons.
Child discounts apply to children up to 11 years of age when accompanied by two adults. The first child sleeps with the parents in the same room. Two children get their own room.
Regular season: 1.Nov.12 – 23.Dec.12 / 1.May.13 – 15.Jul.13 / 1.Sep.13 – 31.Oct.13
High season: 11.Jan.13 – 30.Apr.13 / 16.Jul.13 – 31.Aug.13
Peak season: 24.Dec.12 – 10.Jan.13
Basic – Comfort – All inclusive journey.
We recommend the tours as follows:
» Basic If you want maximum freedom to arrange your stay locally.
» Comfort If you want the tours to be booked and keep the costs as low as possible.
» All inclusive For families with children and all who want everything to be arranged.
This journey can be adapted to your personal wishes. You can add or leave out days and also choose other hotels if you want, from budget to 5-star hotels. Let us know your wishes, then we will send you a personal offer.