Thailand Nature of the South
12 Days
Travel through the beautiful jungles of Thailands south. After an introduction with Bangkok you will move onward to Khao Yai National Park. Walk through refreshing forests with scenic mountain landscapes, along elephant trails and mountain streams. See magnificent waterfalls where you can take a swim. Via the ancient capital city Ayutthaya you travel by nighttrain to Surat Thani. Here your Tree Tops safari starts, in the tropical rainforest of Khao Sok National Park where untouched jungle still exists. Being in the jungle itself with its uncountable sounds all around you is an experience in itself. The lake is an oasis of peace and an ideal place for relaxation. This dream holiday ends on the beaches of Koh Samui.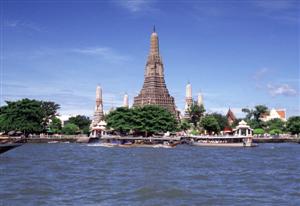 Day 1 – 2. Bangkok arrival
Arrival at Bangkok International Airport and transfer to your hotel. The rest of the day is free. On day 2 visit Bangkok's most famous landmarks: the Grand Palace and the Wat Phra Kaew temple with the Emerald Buddha, the national Buddha statue. Several of Thailand's most significant religious ceremonies are here performed by the King. The entire complex contains more than 200 buildings, representing more than 200 years of history and architecture. The evening you will dine in the rotating restaurant of Thailands highest building: the Baiyoke Sky tower with 82 floors. Enjoy a delicious Thai meal and the nightly view over Bangkok city. Overnight stays in Bangkok.
Day 3 – 4. Khao Yai National Park
Travel from Bangkok to Khao Yai. After lunch visit the volcanic caves and the bat caves and see more than a million bats swarming out to hunt for nightly food. Falcons try to seize the bats as food, an experience not to be missed. Stay overnight in a spaciously set up nature resort spread out over a large terrain with picturesque accommodation that fits perfectly in the natural landscape of Khao Yai. The morning of day 4 drive deep into the mountains and walk through refreshing and scenic landscapes of bizarre mountains where untouched jungle still exists. You will walk along elephant trails and mountain streams and see magnificent waterfalls where you can take a swim. Admire the magnificent views from the cliff at 1270m altitude. Depending on the season you will see flowering trees, wild orchids or beautiful butterflies. Animal life include elephants, gaurs, monkeys, deer, bears and birds including the famous hornbill. The park has the biggest elephant population (200) in Thailand. In the afternoon visit the Salt Licks where elephants come to drink. Dinner (not included) will be served upon return in the hotel. Overnight again in Khao Yai.
Day 5. Ayutthaya
Travel by train from Khao Yai to Ayutthaya, the old capital city of the central Thai kingdom from the 13th – 17th century. With influences from Dvaravati, Khmer, Mon, and Lawa cultures, Ayutthaya was able to create its own arts and culture from a delicate blend of those cultures. During the reigns of 33 kings, Ayutthaya gave Thailand a great number of fine buildings, monuments and works of art. In 1767 Ayutthaya was completely destroyed by the Burmese. The remains of this island city are of extreme archaeological importance and the extensively restored historical park in Thailand was selected a UNESCO World Heritage Site in 1994. Countless ruins of palaces, temples and monuments are scattered over the historical park of Ayutthaya. In the afternoon transfer to Bangkok and by night sleeper train to Surat Thani.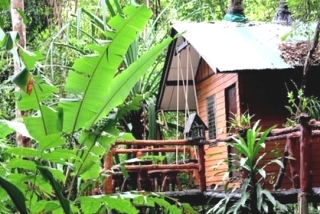 Day 6 – 9. Tree Tops safari
Morning arrival at Surat Thani railway station. Transfer to the Khao Sok National Park, where you will arrive late morning. A guide will take you to the Tree tops bungalows. After lunch we go for an exciting ride on the Khao Sok river. Depending on the height of the river we go canoeing or tubing, a fun activity of floating down the river in big car inner tyres. Along the way we may catch a glimpse of gibbons, languor's monkeys etc. Return to Tree Tops for a dinner of local cuisine. The morning of day 7 an open van will take you to the lake. A local boat-ride through towering limestone mountains, honeycombed with caves and topped with dripping emerald foliage takes us to the jungle island where our Raft-house Resort is based. A boat ride takes us to the edge of a jungle waterfall and a trail into the dense rainforest for an all day trek to the top of a mountain lookout point. This offers an excellent chance to spot animals and birds. The reward at the top is a magnificent rock garden of wild orchids and a splendid view over the Khao Sok National Park.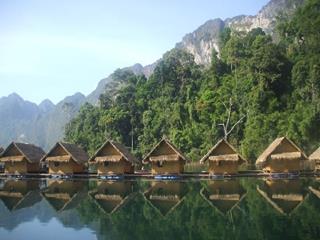 After breakfast on day 8 take a boat ride to nearby caves to observe bats and take a swim. The guide will have flashlights with him. On the way back we will visit a local fisherman's village. In the afternoon there is time for leisure, we can relax and swim, or explore the lake by canoe. After dinner we take a short animal spotting trek on the island behind the raft houses where you will stay overnight. Day 9 early morning wakeup for a canoetour to spot several colonies of different apes. About 9 o'clock we take the boat back to the head of the lake and the van takes us back to Tree Tops Lodge. From here you will travel by bus and ferry to your hotel on the tropical beach island Koh Samui. The rest of the day is free at leisure.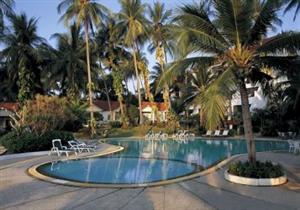 Day 9 – 12. Koh Samui
These days are free at leisure to enjoy the sun, the sand and the sea. In the course of day 12 you will fly to Bangkok, where you will arrive on time for your connecting flight back home. This dream holiday ends upon your arrival at Bangkok International Airport.
Thailand Nature of the South
Number of persons
Single
Prices per person for low season
2
3
4
5 +
surchg
Comfort journey
$ 970
$ 896
$ 858
$ 836
$ 182
All-inclusive journey
$ 1186
$ 1059
$ 996
$ 958
$ 182
Basic journey
$ 412
$ 412
$ 412
$ 412
$ 182
Surcharge high season : $ 19 per person / $ 18 per single room
Surcharge peak season : $ 55 per person / $ 55 per single room
Child discount : $ 102 per child
Prices are per person and based on the indicated number of persons.
Child discounts apply to children up to 11 years of age when accompanied by two adults. The first child sleeps with the parents in the same room. Two children get their own room.
Regular season: 1.Nov – 23.Dec  /  1.May – 15.Jul  /  1.Sep – 31.Oct
High season: 11.Jan – 30.Apr  /  16.Jul – 31.Aug.      Peak season: 24.Dec – 10.Jan
What is included in the Comfort and Deluxe version is mentioned under the tab Included.
Which version you choose depends on your own preference:
» Comfort If you want your hotels and tours to be arranged and keep the costs as low as possible. Some things (for instance taxi rides) you need to arrange yourself on location..
» Deluxe If you want a worry free holiday in which everything is arranged in advance. You travel fast and efficiently, without losing time to arrange things yourself on location.
Prices in Thai Baht are leading. Payments can also be made in other currencies such as USD or EUR. In that case, the prices in THB need to be converted at the exchange rate on the day of payment. The mentioned prices in EUR and USD are based on our prices in THB and against an exchange rate of 35 Baht per Euro or 32 Baht per USD.