The other Thailand
Isan 5 Days
Thailands northeastern region Isan is the least changed part of Thailand. It offers a fascinating mix of traditional rural life, mountain sceneries and spectacular temple ruins from the Angkor period. Traveling through Isan is like going back in time. The people of the Isan pursue agrarian lifestyles dictated by the annual cycle of the farming seasons and unchanged by the passage of time. The region's ancient cultural traditions and customs in music, folk dances, legends and festivals are better preserved here than anywhere else in Thailand. You will visit the national park of Khao Yai and the beautiful old Angkor temple of Phimai. You will stay at home with a charming Thai hostfamily in a quiet Isan countryvillage and take part in authentic daily village life. Experience first hand how life on the quiet Thai countryside still is.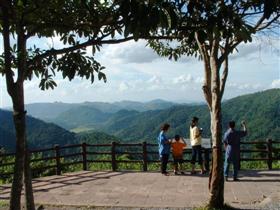 Day 1. Bangkok – Khao Yai
In the morning transfer from your hotel in Bangkok to Khao Yai National park. After lunch the journey through the park begins. You will drive through the most beautiful parts of Khao Yai with time to relax near the beautiful Haew Suwat waterfalls where you can swim. Later you will visit the volcanic caves and the bat caves and see more than a million bats swarming out to hunt for nightly food. Falcons try to seize the bats as food, an experience not to be missed. In the evening you can optionally visit the friendly night market of Pak Chong. You will stay overnight near the Khao Yai National Park in a spaciously set up nature resort spread out over a large terrain with picturesque accommodation that fits perfectly in the natural landscape of Khao Yai. The hotel has a large garden with orchids, turtles, butterflies and plants, a swimming pool and a cozy restaurant.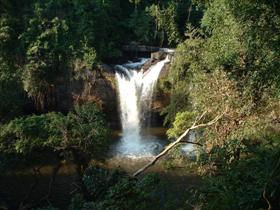 Day 2. Khao Yai national park
Drive deep into the mountains and walk through refreshing and scenic landscapes of bizarre mountains where untouched jungle still exists. You will walk along elephant trails and mountain streams and see magnificent waterfalls where you can take a swim. Admire the magnificent views from the cliff at 1270m altitude. Depending on the season you will see flowering trees, wild orchids or beautiful butterflies. Enjoy being in the jungle itself with its uncountable sounds all around you. Animal life include elephants, gaurs, monkeys, deer, bears and birds including the famous hornbill. The park has the biggest elephant population (200) in Thailand. The afternoon is the time that most animals come out of their hiding and we will visit the places where this happens most often. Dinner (not included) will be served upon return in the hotel. Overnight in Khao Yai Garden Lodge.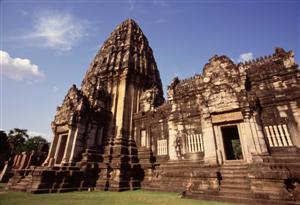 Day 3. Angkor temple of Phimai
During the Khmer period, large parts of Thailand were conquered by the Angkor empire. Phimai was directly connected by road with the Angkor capital. Prasat Hin Phimai was built at the beginning of the 12th century, when the Khmer empire had its glory period. The monument is of great historic and esthetic importance, it became the example and prototype for the later built and famous Angkor Wat in Cambodia. A cozy place for lunch is the nearby Saai Ngam banyan tree. Onward to your homestay address in the village Khampom, on route passing the silk village Chonnabot. During dinner, prepared by your family host, you will be warmly welcomed by the local Thai village people. The contact with the local people and their warmth and hospitality will be among the most memorable experiences of your holiday.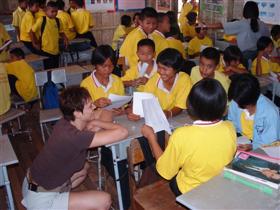 Day 4. Homestay and village life
Visit on school days the village school. See the ceremonial beginning of a school day with the children singing the national Thai anthem followed by Buddhist prayer. After the ceremony you can enter the classroom. The school children are probably as curious about Western life as you are about Thai life. Your guide will translate everything again. This school visit will be one of your more memorable experiences. Continue with a walk through the village, accompanied by your guide who has a lot of inside information and can tell you anecdotes about village life. You will stop from time to time to see how the villagers leisurely spend their day or earn their living. For instance at a "factory" where rice is being processed to "Lao spaghetti" and at a straw mat production area. Lunch is taken along the route at a local noodle & rice food stall.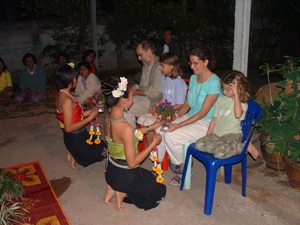 In the afternoon you will go into the rice fields. Depending on the season you can see how rice is sown or harvested. If you want then you can help and do some manual labor yourself. Later this day you will buy the ingredients for your evening meal at the village market. During dinner you can observe the village's evening activities and talk with the Thai people in a relaxing way. As this will be your last dinner with the host family, probably half the village will want to say goodbye to you. Following Isan tradition you will receive a lot of good wishes and a wrist full of little ropes. Overnight stay again with the host family.
Day 5. Bangkok
After breakfast you will go to Khonkaen and onward to Bangkok by train or aircon coach. Upon arrival in Bangkok transfer to your hotel. End of tour.
The other Thailand
Number of persons
Single
2
3
4
5 +
surchg
Prices per person:
Deluxe version:
$ 555
$ 447
$ 400
$ 392
$ 62
Short version:
$ 406
$ 322
$ 285
$ 276
$ 48
Seasonal surcharges : Not applicable. Prices are valid throughout the whole year.
Child discount : Not applicable.
Prices are per person and based on the indicated number of persons.

Short version:


This tour is also available as a short version with start in Pak Chong, end in Khonkaen, superior aircon rooms in Khao Yai and not including dinners. You travel on own arrangement to Pak Chong on day 1 and the tour ends in Khonkaen on day 5. From Khonkaen you can move on to your next destination, e.g. Khonkaen to Chiang Mai, Indochina route or the Phu Kradung challenge.
Prices in Thai Baht are leading. Payments can also be made in other currencies such as USD or EUR. In that case, the prices in THB need to be converted at the exchange rate on the day of payment. The mentioned prices in EUR and USD are based on our prices in THB and against an exchange rate of 35 Baht per Euro or 32 Baht per USD.