Touching Burma
Four day jungle trekking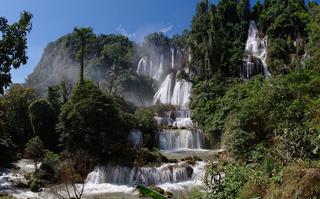 This 4-day tour is an expedition through the dense jungle of Umphang, along the border with Burma. You walk through tropical forests, sail on bamboo rafts and ride elephant-back. One of the highlights of this tour is your visit to the spectacular Thi Lo Su waterfalls, one of the highest in southeast Asia. Overnight stays are in hilltribe villages and 1 night in a tent.
The tour begins and ends in Mae Sot, a village in the mountainous province of Tak in the west of Thailand. Mae Sot borders Burma, which gives the population distinct Burmese influences. This area is hardly visited by tourists. Take care to be in Mae Sot on the evening before this tour begins. We can arrange your transfer to Mae Sot on the evening before the tour begins and we can also book 1 overnight stay in Mae Sot.
Day 1.
After an early breakfast, your guide will pick you up at your hotel in Mae Sot. Transfer by pick-up truck for a drive to the village of Umphang. This long and magnificent route goes along a mountain road that gently winds its way through the jungle, passing various small villages on the way. You will stop on route at a Hmong village. The afternoon at Umphang is free at leisure. Overnight in Umphang Guesthouse.
Day 2.
The expedititon today begins with a rafting tour down the Umphang river Mae Nam Khlong. Sail through dense tropical forest, past waterfalls and caves with stalactites. Stop at a hot spring in the middle of the jungle. Picnic lunch and continue your tour by pickup truck and walking through the forest. At the end of the afternoon you arrive at the campsite of Thi Lo Su National Park to put up your tents. Here you will spend the night. Enjoy dinner at a campfire site and overnight stay in your tent.
Day 3.
After a short trek you will arrive at one of the highlights of this expedition. The Thi Lo Su are among the most beautiful waterfalls in Thailand. A cascade of waterfalls plunges down various levels over a total height of more than 300 meters, which makes the Thi Lo Su the highest waterfall of Southeast Asia. You can spend all morning near the falls and have plenty time for a swim. Picnic lunch followed by a firm walk for 3 hours to a Karen village. Dinner upon arrival. In the evening you can explore the forest and observe animal nightlife. Overnight stay in the village.
Day 4.
Set off by elephant for a 2-hour ride to the pickup truck that is waiting to take you back to Umphang. Lunch in Umphang and visit to a Hmong school for tribal children. Then onward to Mae Sot where this tour ends.
In Mae Sot you have time to explore the village and go shopping for Burmese products on the local market. You can go onward to Bangkok by night bus or you can stay one more night in Mae Sot and take the morning bus to Chiang Mai. The bus tickets are not included, these need to be bought locally. Our local guide will give full assistance to getting the ticket and advice about how to travel by local transport from Umphang to Bangkok or Chiang Mai.
Touching Burma   (4d/3n)
Price  $ 253   per person (from 4 persons up, $ 293 p.p. for 3 persons, $ 312 p.p. for 2 persons)
Start:

Day 1 in Mae Sot at your hotel (our guide will pick you up);

End:

Day 4 in Mae Sot at your hotel.

Departure:

DAILY

Included:

All transfers by open pick up truck, Basic accommodation
(cottages, camp sites, bamboo huts) with private or shared sanitary facilities, Full board during trekking, A
local English-speaking guide, All admission fees.

Not included:

Drinks & meals not mentioned in the above itinerary, Bus
ticket from Mae Sot to onward destination (e.g. Chiang Mai or Bangkok), Tips for guide & drivers &
personal expenses.

Remark:

In order to do this tour, you need to be in
good health, have a reasonable condition and a sense for adventure. This tour is not recommend for children.
See also
about trekkings.

Prices in Thai Baht are leading. Payments can also be made in other currencies such as USD or EUR. In that case, the prices in THB need to be converted at the exchange rate on the day of payment. The mentioned prices in EUR and USD are based on our prices in THB and against an exchange rate of 35 Baht per Euro or 32 Baht per USD.