Thailand Temples & Elephants
10 days
Home > Dream Holidays > Thailand Temples & Elephants
Thailands fascinating capital city Bangkok and a trek through the mountains in the north are the most important elements of this journey. Bangkok has so much to offer that 3 days is still too short. You will visit the Grand Palace and the Temple of the Emerald Buddha, make a boattour through the canals of Bangkok and dine in an authentic Thai teakwood house while enjoying a classical Thai dance performance. Onward by nighttrain to the north, where you will make a 2 day nature trek through the wonderful mountains around Chiang Mai. The last days of this tour you will spend on the beaches of Phuket.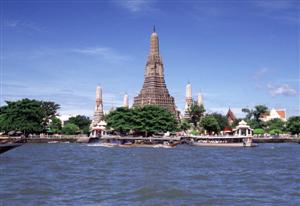 Day 1 - 2. Bangkok
Arrival at Bangkok International Airport and transfer to your hotel. The rest of the day is free. On day 2 visit Bangkok's most famous landmarks: the Grand Palace and the Wat Phra Kaew temple with the Emerald Buddha, the national Buddha statue. Several of Thailand's most significant religious ceremonies are here performed by the King. The entire complex contains more than 200 buildings, representing more than 200 years of history and architecture. In the evening a traditional Thai dinner will be served in an authentic Thai teakwood house. Artists in beautifully decorated costumes and theatrical Khon masks give a dancing performance while you enjoy your evening meal. The dancers move graciously on the rythm of the music of a classical Thai orchestra playing percussion instruments. Overnight stays in Bangkok.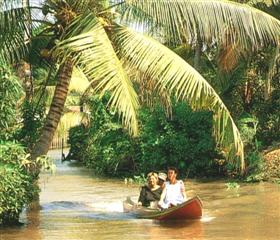 Day 3. Canal tour
Bangkok has long been known as the "Venice of the East" - for good reason. Bangkok and its suburbs have more than 20,000 km of canals. This exclusive tour has been specially designed to offer visitors an unforgettable insight in life along the klongs (canals) of Bangkok. Different kinds of boats are used, the Praya Express boat, long-tails and small 3-4 person boats to explore the smallest klongs, where you can see how many generations have been living. Your guide will take you ashore to visit a small school or a local temple for lunch. On route we visit (if possible) a teakwood house of the Rama 5 period. This relaxed tour gives you a surprising insight in daily Thai life. Afternoon transfer to Bangkoks central railway station Hualampong. In the evening board the nighttrain for your journey to Chiang Mai (airconditioned sleeper berths).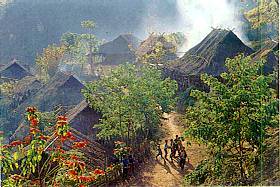 Day 4 - 6. Chiang Mai jungle tour
Morning arrival on day 4 in Chiang Mai and transfer to your hotel. The rest of the day is free at leisure in Chiang Mai. Day 5 starts with a visit to an elephant camp in the Chiang Dao area north of Chiang Mai. Here you will see what these loyal and intelligent animals are capable of. Next you will visit the caves of Chiang Dao and a white marble Buddha image from Burma. After lunch you will go to an Akha village and a neighboring Lisu village. Then walk to the village of the Palong tribe where you will stay the night. Your guide will prepare dinner according western standards. The next morning starts with an elephant ride through the jungle. Enjoy the ride and the stunning views over the jungle from the back of this animal. Onward to a camp on the banks of a river where bamboo rafts are prepared to go downstream over the river. On the way back you will visit an orchid farm. In the afternoon arrival in Chiang Mai for overnight stay.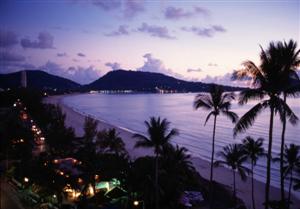 Day 7 - 10. Phuket
The morning of day 7 you will fly from Chiang Mai to Phuket. Upon arrival at Phuket airport transfer to your hotel. You will stay 3 nights in a beautiful hotel on the peaceful beach of Kata (3-star) or Patong (4-star). These days are free at leisure to enjoy the sun, the sea and the beach in the daytime and after sunset Kata and Patong offer entertaining evening activities with many restaurants and terraces. On day 10 you will check out your hotel. In the course of the day you fly to Bangkok for your connecting flight back home. This tour ends upon arrival at Bangkok International Airport.
or via the Booking form
Temples and Elephants
Number of persons
Single
Prices per person for low season
2
3
4
5 +
surchg
Comfort Version
$ 1100
$ 999
$ 953
$ 928
$ 196
Deluxe Version
$ 1273
$ 1155
$ 1067
$ 1043
$ 196

| | |
| --- | --- |
| Surcharge high season : | $ 35 per person / $ 37 per single room |
| Surcharge peak season : | $ 129 per person / $ 138 per single room |
| Child discount : | $ 95 per child not older than 11 years of age |

Temples and Elephants
Number of persons
Single
Prices per person for low season
2
3
4
5 +
surchg
Comfort Version
€ 975
€ 885
€ 844
€ 822
€ 174
Deluxe Version
€ 1128
€ 1023
€ 945
€ 924
€ 174

| | |
| --- | --- |
| Surcharge high season : | € 31 per person / € 33 per single room |
| Surcharge peak season : | € 114 per person / € 122 per single room |
| Child discount : | € 84 per child not older than 11 years of age |

Prices are per person and based on the indicated number of persons.
Low season: 1.May - 31.Oct; High season: 1.Nov - 10.Dec / 16.Jan - 30.Apr; Peak season: 11.Dec - 15.Jan
What is included in the Comfort and Deluxe version is mentioned under the tab Included.

See also this explanation. Which version you choose depends on your own preference:

Comfort

If you want your hotels and tours to be arranged and keep the costs as low as possible.

Some things (for instance taxi rides) you need to arrange yourself on location..

Deluxe

If you want a worry free holiday in which everything is arranged in advance.

You travel fast and efficiently, without losing time to arrange things yourself on location.

Prices in Thai Baht are leading. Payments can also be made in other currencies such as USD or EUR. In that case, the prices in THB need to be converted at the exchange rate on the day of payment. The mentioned prices in EUR and USD are based on our prices in THB and against an exchange rate of 38 Baht per Euro or 34 Baht per USD. Our payment terms apply.
Comfort version:

All mentioned excursions and transfers, excluding the transfers mentioned in "All-inclusive journey"
An English speaking tourguide during the excursions
All overnight stays based on twin sharing and including breakfast
Nighttrain Bangkok - Chiang Mai (2nd class sleeper)
2 domestic flights Chiang Mai - Phuket and Phuket - Bangkok

Deluxe version:

All admission fees
Small transfers within city limits and on Phuket, for example between hotels and excursions or airports
Nighttrain 1st class (private cabin for 2 persons) instead of 2nd class

Not included:

International return flight to/from Thailand
Travel insurances and other personal insurances
Day room in case of early arrival or late checkout
Personal expenses and tips
Some hotels apply surcharges, for instance for Christmas dinners, New Year's dinners or stays during local holidays. These will be mentioned in the personal offer.

Start: Day 1 at Bangkok International Airport (upon arrival from abroad)

End: Day 10 at Bangkok International Airport (before departure to abroad)
Many other hotels possible, from budget to 5 star.

Ask us

for prices and possibilities.